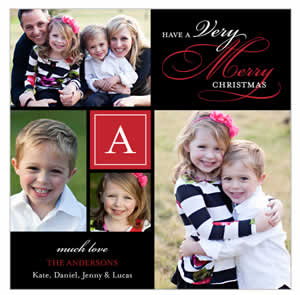 'Tis that time of year again to think about sending Christmas holiday cards. Actually, it's time to more than think about it, now is the time to take action. Most of the Christmas cards we get in my household are photo cards. I love getting them and seeing how much kids have grown, etc. But if you don't plan well, you end up paying expedited shipping, getting cheap photo cards from the 1-hour service at the drugstore or, if you're like me, you cop out and buy the pre-printed cards from the store, which can be kind of boring and unoriginal. So, this time, I vow to order my cards early. If I could only decide which online service to use.
I was looking at the various offerings online and there are some really good deals. (Be sure to visit my photo deals page for the current coupon codes and promos — you know my motto is to never pay full price.) There are also more choices this year, too, with traditional photo book companies expanding their services into photo cards and card sets and even photo calendars.
Mixbook
The other photo company I really like for Christmas cards is Mixbook, which also recently branched out from photo books to cards and calendars.
Card Features
The best thing about Mixbook is that they offer total customization, from layout to color and lots of fonts, plus embellishments and backgrounds. You can even upload your own embellishments. Like My Publisher they offer three types of paper. The "budget" paper (I wish they would rename it) is 100lb uncoated stock and fairly matte, there is no gloss. I've used it and it's nice for party invitations but I prefer a slight gloss. There is also a classic coated, 111lb silk cardstock with an elegant semi-gloss silk finish, similar to Shutterfly's premium stock. This would be just right for Christmas cards or birthday cards.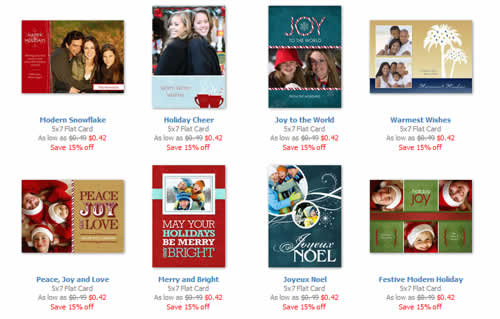 Mixbook's 130lb premium matte has a rich, matte finish most suitable for wedding invites. But, there is no option for the less expensive card printed on photo paper that you can get at sites like Shutterfly or drugstore photo centers.
Prices
The standard cards start at only 62 cents on sale (regular 72 cents) each for 25-35 cards. The Classic Coated is priced at $1.24 on sale, regular $1.42. The Premium Matte is approx $1.61 on sale. Mixbook has frequent sales.
Shutterfly
If you are on a budget or prefer greeting cards printed on photo paper, I really like Shutterfly
. They usually do a very nice job and the colors come out rich.
Card Features
Other than a nice selection of fonts and colors, there is not a lot of customization to the layout. But they have a great selection of nearly 1000 designs and there are some very attractive card styles. Making a holiday card is extremely easy with Shutterfly.
Prices
For a set of 25 5×7 cards printed on photo paper, you'll pay about 84 cents per card and you can usually save by taking advantage of a sale (again, see my photo promos and coupons page for the latest Shutterfly coupon codes). You also get a better price the more you buy. Of course, Shutterfly also offers cards printed on premium card stock that has a nice very slightly glossy finish; 21-45 5×7 flat or folded cards are approx $2.09 each, which is kind of expensive unless you hit a sale. So if you want premium card stock I would either look for a Shutterfly sale or try My Publisher or Mixbook.
TIP: Shutterfly also has frequent free shipping offers and is the only company I am aware of that lets you use more than one discount code at a time.
These sites give you  a nice set of options and they all have good sales right now. The main thing is to start early so you can get the sale price and avoid paying for expedited shipping. If you want even more info and comparisons, see my holiday photo cards page.
Related Posts
Shutterfly Photo Cards Offer Excellent Variety