Canon Pixma MG5320 Wireless All-in-One Is Sleek, Fast, and Prints Beautiful Photos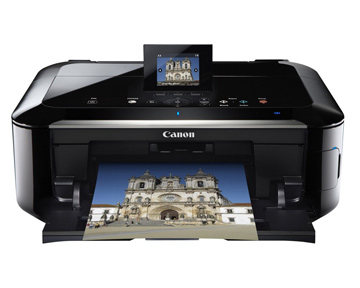 When I woke up this morning I had no idea I would be getting a new Canon PIXMA MG5320 Wireless Inkjet Photo All-in-One Printer (5291B019)
today, or any new printer for that matter. But there I was, in the middle of printing some cards when my color printer bit the dust with only one card left to print! So, after a quick review of the top rated wireless photo printers I went out and bought the Pixma MG5320. Here is my own review.
Overview
The Canon PIXMA MG5320
is a very reasonably priced all-in-one wireless inkjet printer with a sleek and attractive black design that will look great in a home office. It's convenient size makes it suitable for smaller spaces. The surfaces is shiny, however, so fingerprints will show. A unique features is that the front and rear paper trays fold in, which prevents dust from getting inside. The MG5320 is fairly fast and produces beautiful color photos. It also prints and copies documents in black and white and color, and has a built-in scanner . There is no fax capability. This printer is ideal for people with average needs, not as a heavy-duty printer or dedicated photo printer unless you can afford to keep up with an endless supply of ink. (This is an ongoing frustration with most of today's printers. I've yet to find a printer where people didn't complain about the ink consumption and high ink replacement cost.) .
Read the rest of the Canon Pixma MG5320 Wireless All-in-One Color Printer review:
Print Performance and Paper Handling
With a maximum 9600 x 2400 color dpi print resolution, the MG5320
produces very good quality prints, especially at this entry-level price. While it is not as fast as some other printers (other top rated wireless printers that cost more), it is not terribly slow either. On average it will print a borderless 4x6 photo in approx 20 seconds. It print 12.5 black and white document pages per minute and 9.3 pages per minute for color.
I appreciated that there wasn't a long wait time for the printer to warm up, or the seemingly never-ending print header adjustments I've experienced with other printers. There are two input trays: a 150 sheet drawer in the front and another feeder that folds out at the back. The Pixma requires that photo paper be fed from the rear paper tray, leaving the front tray for regular copy paper. There are three printing modes available: Fast (draft) mode is suitable for most printed documents. The Standard and High modes are both suitable for photos, although the latter uses more ink and the printing takes much longer.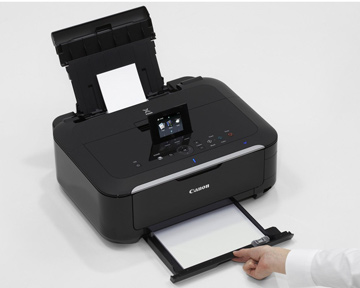 Ease of Use and Convenience
The control panel is minimalistic which is actually good, as it is uncomplicated and simple to figure out. Functions are controlled via a pop-up 3-inch LCD panel with a scroll dial. Home, Back, OK, Start and Stop are the only buttons, and the rest of the features are accessed via the LCD. This model does not have a touch screen; you have to use the scroll dial, which is not difficult.
Ink System
The PIXMA MG5320
uses a five-cartridge system with Cyan, Magenta, Yellow and Black process color plus another black pigment cartridge. The ink usage costs are fairly high – b&w prints cost about 5.2 cents per print while color is about 13.4 cents. A full set of replacement ink cartridges is going to set you back about $45 and Canon doesn't make high yield cartridges for this model. This is why I would recommend this printer for occasional photo printing versus heavy-duty use. While it produces beautiful prints, if you are printing hundreds of photos you will be going through a lot of ink.
Scanning
The scanner feature is easy to use and gives you the option of saving directly to your PC, as an email attachment or PDF. You can also save the file as a TIFF, JPG, or BMP, and it also supports film and negative scanning.
Copying
You will find the usual copying features on the Canon
including two-sided copying (auto-duplex), borderless copying, and cropped copying. You can enlarge up to 400%. For most business documents the Fast mode (draft) is fine and saves on ink.
Other Features
HD Movie Print lets you capture still shots out of videos taken with select Canon HD camcorders and compatible Canon EOS Digital SLR or PowerShot cameras.
Auto duplex saves on paper costs
Print 4"x6" up to legal-size sheets; print borderless photos up to 8.5x11.
Memory card slots for just about every type of memory plus a USB 2.0 port
Ability to connect and print wirelessly from smart phones using the Canon Easy-Photo Print app
Unusual feature: The ability to print CD/DVD Blu-ray label directly onto discs via the included adaptor. This is normally not found in printers at this price range. You choose this option from the print menu and can choose from a few different backgrounds and layouts.
Setup
The Canon PIXMA MG5320
sets up in about 20 minutes out of the box, about 10 minutes for cleaning and aligning the printer heads and another 10 for installing the software. The wireless connection is easy if your router supports WPS; it goes into discovery and boom, you're connected. But if you have to enter a 26-letter WEP key like I did, it will take a few tedious minutes longer because you have to switch between letters and numbers screens like on a cellphone. You can also print via USB but it does not come equipped with the USB cable.
Dimensions
Weight: 18.3 lbs
17.8 inches wide by 14.5 inches deep just 6.6 inches tall.
It fits nicely on my 19-in stand and I like the low, unobtrusive profile.
Consumer Reviews
"I am very satisfied so far. The print quality and speed are excellent, and the features...(read more here: reviews of Canon Pixma MG5320
)"
"One of the best printers i've ever owned. The photos that I printed are just as good if not better than the ones that I get done at the drug store...(read more here: reviews of Canon Pixma MG5320
)"
Amazon Rating: 4 out of 5 Stars
Pros and Cons
Pros: Excellent image quality, copies and scans well, good for business documents. Auto duplex printing feature saves on paper costs. Supports all kinds of memory and external devices. Stylish, low profile. Low cost
Cons: If you print a lot in color, you will use a fair amount in ink, which is a common issue with many printers. There are no high-yield cartridges available and there is no ethernet port for a wired network.
Canon Pixma MG5320 Price
The Canon PIXMA MG5320 Wireless Printer
is considered an entry-level all-in-one color printer, but in my opinion it has most features the average person would be looking for. I think the price is rather reasonable, it costs around $100-$150 depending on where you shop. Click here to see the current prices at Amazon.com
and Buy.com
, which had the best prices by about $20 at the time of this review.
Get more reviews of the best rated photo printers here
.