The Holiday season has begun! If you want your 2020 Holiday Christmas cards delivered to your family and friends BEFORE the big day, you need to start planning NOW. I'll show you the latest trends and designs, the best sites to order your cards, and give you the best COUPON CODES to save big.
I've searched through the top photo card websites to find you the best Christmas holiday photo cards, including the prettiest card designs and the widest style selection so you don't have to waste your time. You've only got a few short weeks to get your cards in your hands and mailed out so they'll arrive before Christmas. Remember, mail slows down the closer to December 25, so don't delay!
Foil Trim is In
This year, it's all about foil. All the major sites like Shutterfly/Tiny Prints, Mixbook, and Snapfish are offering most of their card styles with optional real foil accents. With a choice of gold, silver, or rose-gold, the real foil is a raised texture that gives your cards a rich, premium look. Here's an example from Mixbook below: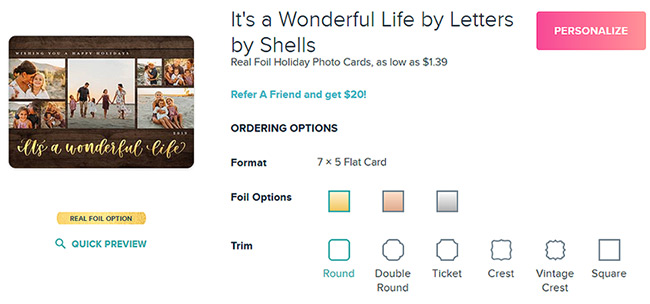 Best Photo Card Sites
I've ordered from all these sites and I've been very happy with the results. Printing and card stock is of high quality. They have great customer service and stand behind their products with 100% guarantees. All include printing on the back of the card, except on photo paper cards.
Mixbook – Hands down best for total customization and really pretty designs. You can sort the card designs by the number of photos, card size, color, orientation, foil options, and trim options. There's a choice of 6 card stocks from low-cost Satin Finish to high-end Luxe Board (no photo paper). 900+ designs for 0 to 4+ photos. Hot in 2020: Real Foil holiday photo cards in gold, silver, or rose-gold. Make your card at Mixbook now.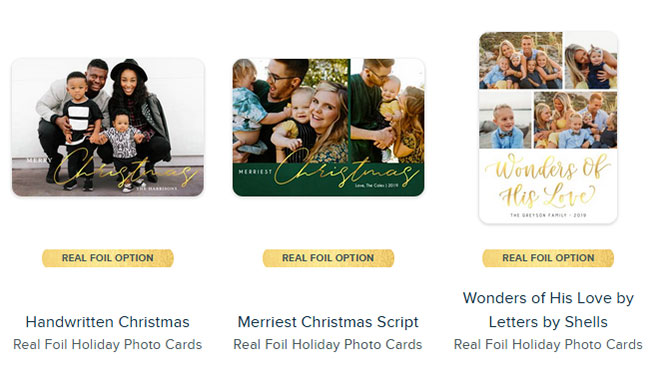 Shutterfly – Designs including five corner trim options (square corners, rounded, scalloped, etc.), four card sizes, flat, folded, gatefold, and tri-fold card styles for 0 to 4+ photos. Standout: new foil and foil stamp cards and glimmer cards for an extra wow factor. Choose from the 140# Signature Cardstock or Pearl Shimmer. On some cards, you can select a greeting, i.e. "Christmas" vs "Holiday" or "New Year." Return address printing and addressing/card mailing available. Go to Shutterfly
.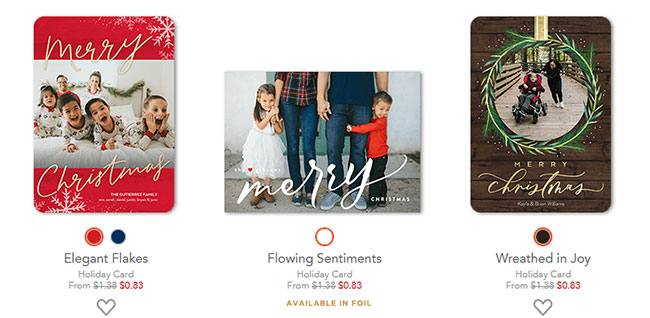 Snapfish – 1160 designs on regular or premium cardstock for 0 to 4+ photos. You can get three sizes of flat cards (5×7, 4×8, 6×8) and 5×7 folded cards, plus new "Seal and Send" 7×10 cards that you simply fold, seal and send, no envelope needed. Real foil is also available, as well as glitter accented cards. There's a choice of Matte 110lb card stock, Premium 120 lb. cardstock, and Matte or Glossy photo paper, depending on the design chosen. Add rounded, "elegant" or scalloped corners for a small extra charge. Return address printing available. Make your card at Snapfish now
.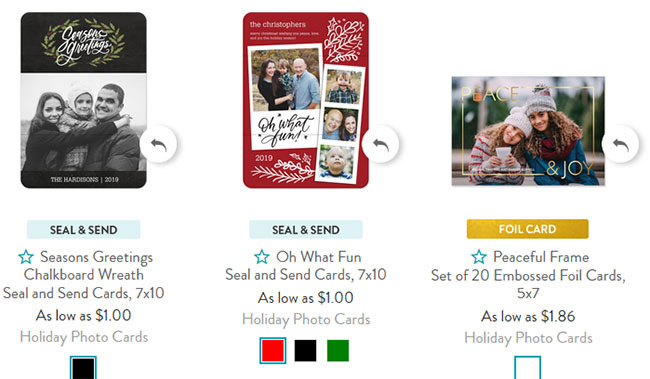 Picaboo – 370 very colorful 5×7 flat or folded designs on signature 120lb silky card stock or 120 lb lush eggshell finish premium cardstock for 1-2 photos. Free return addressing printing on premium cards. Free shipping on all orders all the time. Create your cards at Picaboo now.

What's the Cost?
Average Price for 20 Cards – A set of 20 flat 4×8 photo paper cards with envelopes will cost between 75-85 cents per card without a sale. Flat 5×7 cards on standard cardstock average $1.39-$2.29 per set without a sale, 5×7 folded cards are approx. $1.99-2.49 pre-sale and tri-folds are about $3.49. Prices vary widely depending on the paper, card size, and trim size. But there are good deals RIGHT NOW with savings up to 50%, so don't wait!
Christmas Photo Card Formats
Photo paper cards are printed on front only and they're the least expensive. Find these at Shutterfly and Snapfish.
Flat and folded cards – usually 5×7  with room for multiple photos. Find these at Mixbook, Picaboo, Shutterfly, and Snapfish.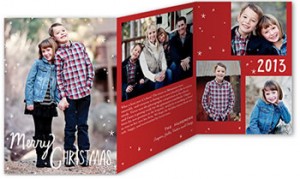 Accordion fold and Gate Fold– check out Shutterfly
Holiday Photo Card Styles
All but Picaboo offer collages. For Newsletter and Top 10/Year in Review styles, try Mixbook, Snapfish
, and Shutterfly
. For religious cards, Shutterfly and Snapfish have the best selection. The chalkboard style is very popular; Mixbook, Picaboo, and Snapfish have a good selection.
Need more details? See the handy chart below:
| Photo Company | Shutterfly | Snapfish | Mixbook | Picaboo |
| --- | --- | --- | --- | --- |
| Sizes | 5x5, 5x7, 4x8, 6x8 | 4x8, 5x7, 6x8, 7x10 | 5x7, 5x5, 4x8, 4x6, 3.5x3.5 | 5x7 |
| Standard Paper | 110lb Signature | 110lb stationary stock | Standard - satin coated 111 lb, 14pt with a slight sheen; Signature Matte 100lb 12pt smooth matte finish | Signature Cardstock 120 lb silky smooth finish 15pt thick |
| Premium Paper | 110lb Pearl Shimmer Cardstock | 120lb stationery stock, eggshell color | 130lb 16pt matte finish | 120 lb tactile eggshell finish, 18pt thick |
| Photo Paper | Glossy or Matte | Glossy or Matte | n/a | n/a |
| Variety of corners trims | On 800+ designs (Extra 18+ cents ea | Most designs (Extra 15 cents ea) | All designs, extra 20 cents ea | no |
| Personalization | Photos, text and font only | Photos, text and font only | Total customization | Photos, text and font only |
| Envelope addressing | Yes - return address and/or recipient address $0.39/env. | Yes - return address | Return and/or recipient address + 25 cents | Return address $0.29/envelope |
| Special Notes | | Some designs (photo paper cards) can be picked up in retail partner store | | |
* Thickness is often referred to by weight in pounds, which is the weight of 500 sheets, and it is often measured in points as well. Points are the thickness of the sheet in thousandths of an inch. It can get confusing; just remember the higher the point, the thicker the paper. So, 17pt is thicker than 15pt.
Processing and Shipping Time
Will your cards arrive in time? Here are the estimated processing and shipping times for popular companies. Be sure to double-check when you order, to avoid disappointment:
| | | |
| --- | --- | --- |
| Company | Standard Ground | Expedited |
| Shutterfly | 5-7 business days | 4-5 business days |
| Snapfish | 4-10 business days | 2-6 business days |
| Mixbook | 7-9 business days | 5 business days |
| Picaboo | 4-10 business days | 2-6 business days |
| | | |
Tip: In a big hurry? You can order photo paper cards online for local in-store pick-up (i.e. Target, Walgreens) via Shutterfly or Snapfish, sometimes with 1-hour or next-day printing, but you are usually limited to photo paper style.

To help defray my website operating costs I belong to several affiliate programs.  In some instances, I may receive a  small commission for products viewed or purchased via my referral. Opinions are solely my own and I try my best to write honest reviews and only recommend products I would use myself.  
Related Pages
Holiday Photo Book Ideas Your Family Will Love
Six Tips for Creating a Holiday Photo Card to Be Proud Of