Have you ever wondered which companies offer the highest quality paper for printing photo books? Generally, the thicker the paper the better the quality, which means it's more durable with less chance of bending corners or wrinkling pages with frequent handling. Many companies offer photo paper with 100lb thickness, but what exactly does that mean, and are they all the same?
Consider What Kind of Book You're Printing
While choosing the right photos and layouts is important, the paper is also a key part of your book design. Do you want your images to have a bit of texture? Would they be more suited to a matte or glossy finish? Take some time to think about it.
Going a step further, do you want a standard book design or pages that stay flat when opened, without a gutter down the center? All things to consider before you press the order button.
What is the Paper Weight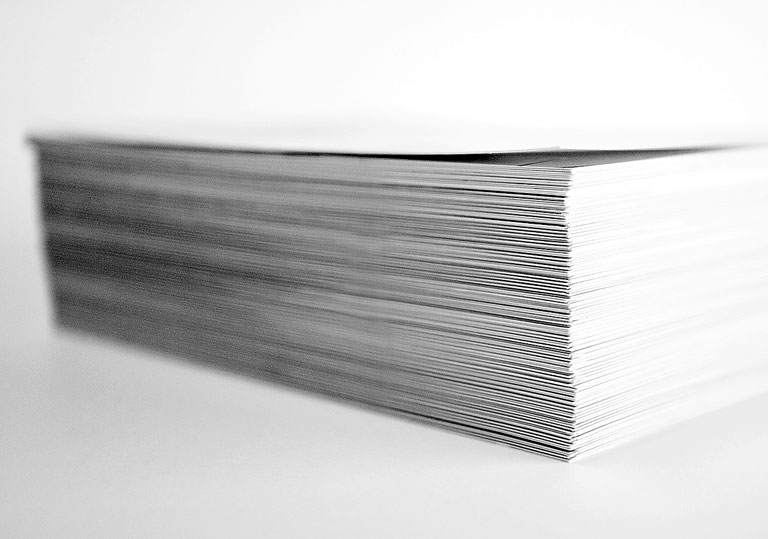 Paper weight means the weight of 500 sheets of that particular paper. Most photo companies offer paper at a minimum of 100lb and most also offer thicker paper with lay-flat pages. As a rule of thumb, the thicker the paper the better, but you can't consider just weight, you have to look at the texture (satin or matte finish vs glossy) and the stiffness of the paper. Some papers are quite sturdy yet only 65#, likely due to a coating. Thicker or coated paper tends to be more durable. Typically you want a fairly stiff paper to stand up to fingers turning pages. Some companies like Blurb have paper swatch kits available for purchase.
Photo Book Paper Types
Silk Paper
This is the most common paper used by standard photo book companies that mass-produce books. It's not quite matte yet not quite glossy. It's considered a basic, more economical paper type.
Glossy Paper
Glossy paper is just that, it's coated so it produces shine and reflects light. It's very nice for providing vibrant colors and contrast, but it can leave fingerprint smudges. Some people like a slightly glossy page to look more like a real photographic print.
Matte Paper
Matte is basically the opposite of glossy paper, it has a low sheen so you won't get a reflection off the pages. Some matte paper may dull colors very slightly so I think it would be most appealing with nature photography and family heritage albums where you want a more classic, muted ambiance.
Lustre Paper (Semi-Gloss)
Sometimes called pearl or semi-gloss, lustre paper is smooth with a subtle gloss. It has an elegance that makes it perfectly suited to wedding albums. It has a bit of a sheen but not as much reflection as glossy paper, and it offers beautiful color reproduction.
Acid-Free Paper
Most photo book companies use acid-free paper. What this means is it won't turn yellow or become brittle because of acids within the paper.
To help you decide what kind of paper to use for your next photo book, I surveyed a number of photo book companies for paper quality, type, and thickness. One thing I found is that some paper types don't fit precisely into one of the categories above or one company might describe the paper using different terms. For instance, Mixbook distinguishes between their standard paper which is described as a semi-gloss with a subtle gloss, and their premium Pearl Finish paper which has more of a silky shimmer.
I got the information below directly from each company listed. The chart is based on hardcover photo books and the standard paper plus the higher-end options, as well as paper for lay-flat pages.
Photo Book Companies – Paper Types
Blurb
Standard: Semi-Matte 80# with a smooth semi-matte finish
Premium Lustre Paper: slight gloss, 100#, 35% heavier, and slightly more opaque than the Standard Paper.
Premium Matte: Matte 100# with a slight sheen, 35% heavier and more opaque than Standard paper.
ProLine Uncoated: 100# archival-quality with eggshell-textured uncoated finish by Mohawk. Often used in fine art.
ProLine Pearl: Semi-gloss, 140# slightly glossier than the PremiumLustre, and made for high-end books.
Standard Layflat Paper: Premium Lustre extra-thick 295#
Mixbook
Standard Paper: 100# acid-free archival quality silk, semi-gloss paper
Pearl Finish: adds a silky shimmer that works well with book templates that use gold accents or jewel tones.
Lay Flat: Ultra-thick premium paper, with a luxe matte finish, backed by card stock so it's extra heavy.
Picaboo
Standard: 110# heavy-weight glossy or Premium Lustre paper, acid-free archival
Layflat: 65# archival-quality, matte cover stock, which is thicker, and includes an integrated, flexible hinge
Shutterfly
Standard books: acid-free, 65# (7.2 mil thick) matte cover weight paper.
Glossy pages are printed on the same 65# paper with an added high gloss UV coating.
Hinged lay-flat pages are printed on standard matte-finish paper with hinged binding.
Seamless Layflat: double-thick, acid-free approximately 70# (190 g/m2) cover weight, premium professional-grade e-photo paper with a lustre finish
Snapfish
Standard books: Archival-quality paper with a semi-gloss finish
Layflat: Archival-quality paper with a satin finish
Premium Layflat: Extra-thick premium paper with a luster-silk finish
I've made photo books with all of the above companies. While each offers slightly different papers, I've found all of them to have sturdy, high-quality paper.
To help defray my website operating costs I belong to several affiliate programs. In some instances, I may receive a small commission for products viewed or purchased via my referral. Opinions are solely my own and I try my best to write honest reviews and only recommend products I would use myself.