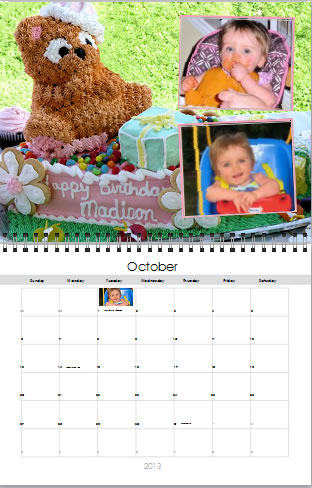 My Publisher has had a photo calendar creator for a while, but many people don't even know about it because the focus has been on their photo books. With the holiday season approaching it seemed like a good time to take it for a spin and make a 2013 calendar. I am somewhat of a calendar girl, so to speak. For Christmas I make a calendar for each family member chronically the year in pictures. Each one is tailored to a particular person, so getting a start on the project now is perfect.
Since I had all these great photos from my niece's first birthday party, that seemed a great one with which to start my Christmas calendar project.
Web-Based Calendar Creator vs  Free Downloadable Photo Application
There are actually two ways to make your calendar at MyPublisher!
. You can do it either on line using their calendar creator or download their free photo software, which allows you to make either photo books, calendars or cards offline. There are some important differences between the two and I found I preferred using the downloaded photo software; I will explain why below.


There are two sizes available:  8.5×11 or 10×13 format. Online you can either get photos directly from your computer, from another project you have previously uploaded to My Publisher or from Facebook.   I tried the online calendar software and selected about 30 photos from my computer. It took quite a while to upload. This is not entirely My Publisher's fault. They were offering a free calendar promotion (yep, I got to make my calendar for free – My Publisher has lots of great deals. You can make your own Free 8.5 x 11 photo calendar
through Oct 26, 2012)  and the system was overloaded with people trying to make their calendar before the promo ended. What ended up working better for me was to upload some of the slow-loading images one at a time and that actually went pretty fast, to my surprise. In contrast, when I used the downloaded photo app to make another calendar I simply dragged images from my computer into the workspace and it was a piece of cake.
Layout Options and Themes
Ok, on to the layout options.  You can choose from a text-only layout to layouts with  one to 12 images with or without text. Within each you can choose from a range of layouts. My Publisher, which is known for their custom photo books and cards, carries the personalization through to the calendars. You can add backgrounds,  rearrange the pages, and add holidays. The online creator also enables you to add, delete and move text frames or photo boxes. This is not possible in the downloadable photo software (but it is in the photo book function). The photo app enables you to put photos and text on individual date squares, which is very cool – see below.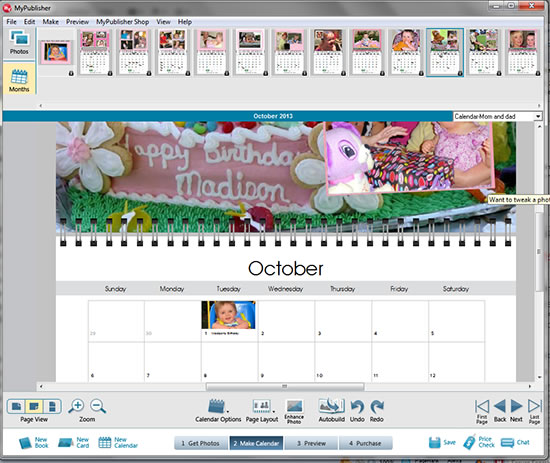 Themes
Online you can choose from baby, kids, colors, textures & patterns, vacation, and  wedding. There is a decent selection of backgrounds, but not enormous like at Mixbook. There were more themes available in the downloaded photo application. In addition to the above there were storyteller, vintage, collage and best seller and there were a few different layout options. Online only, you can add decorative elements and embellishments such as fancy corners, flowers, hearts, travel symbols and stickers with sayings like "our little girl."  They can be added or removed and moved anywhere on the page, although I was a bit disappointed at the selection, which was rather limited. I did like the wide assortment of fonts and sizes and there are numerous color choices available in both calendar creators.
Interface
Both versions have  a simple layout, with the photos in a bar across the top. Online there is a  tabbed menu with page layouts, backgrounds and decorative accents while on the software app it is a pop-up menu located at the bottom.  With both you can re-arrange the photos in the order you want to put them in your calendar. You can zoom in on your photo or calendar page,  view the page several different ways, either the photo page or the date page or both. Online only you can also arrange your photos within the layout, including bringing an image forward or sending it to the back.  Both creators enable you to use a photo as a page background. I found the downloaded photo app easier to work with and more responsive.
You can make photo manipulations such as flip, turn left or right, as well as convert to b&w or sepia. There is a photo editor for making adjustments like color or exposure correction or red-eye removal in the downloadable photo software, but not online, so you should make those enhancements in your editing software before you upload them. If your photo is not high enough resolution to print sharply, you'll get  a warning. Remember that this means there are not enough pixels for a crisp print; it cannot determined if your image is merely out of focus.
At the top of the window you can switch views from photos to calendar pages. If you want to re-order the pages you simply drag the photo section to another page.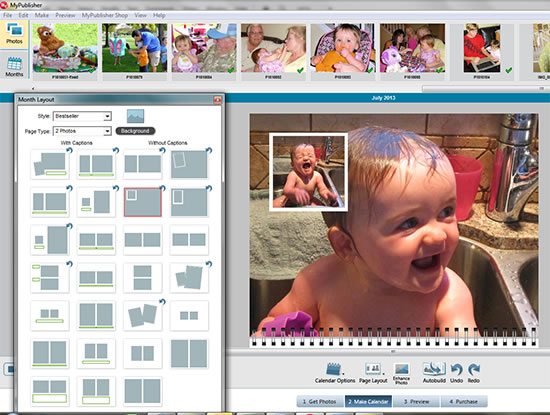 Below is an overview of the differences between the online calendar creator and the free software download:
| | | |
| --- | --- | --- |
| Features and Tools | Web-based Calendar Creator | Downloadable Software |
| Add/delete/move text frames and photo frames | yes | no |
| Re-arrange layout | yes | no |
| Add text and photos to date squares | no | yes |
| Add holidays | yes | yes |
| Add Embellishments | yes | no |
| Availability of themes and backgrounds | yes | Bigger selection |
| Photo editor | no | Yes |
| Ease of use | A little cumbersome | Faster and easier |
I found it faster to create my calendar using the free photo application and there were more features. I think for most people that is the way to go. The only thing I missed was not having the ability to move photo boxes or add/delete/move photo frames or text boxes, which you can only do online. My understanding is that the web-based calendar creator is being updated, so there may be more features added.
My calendar is being printed now on My Publisher's standard calendar paper, which is 110lb premium cover silk paper that is easy to write on in the date section. I will let you know what I think of the final product when I receive it.
I contacted customer several a couple of times via photo and online chat and found service to be very good. They offer a good feature set with nice layouts. My Publisher offers lots of discounts and special promos, so it is a great site for getting a good deal. Be sure to check my photo deals and discount page for the latest My Publisher coupon codes and don't forget, you can make your  FREE photo calendar from MyPublisher
until Oct 26, 2012