It's already mid-October and time to be planning your Christmas holiday cards. We all know how time flies!  I've found that every year I get more photo cards versus standard greeting cards, and  I expect the trend to continue. It's much more fun to receive a cards with a photo than a generic card, don't you?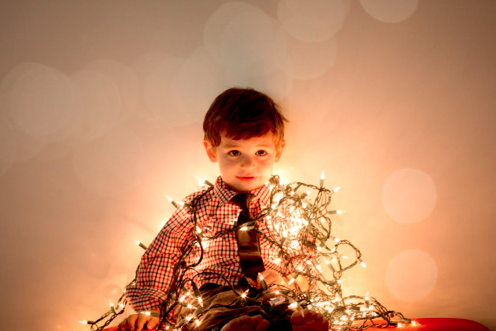 Now is a good time to go through all the photos you have taken this year and find the one that really stands out. If you can't settle on just one, pick several and make a collage photo with a few of your favorites. I found this photo above and think it is just adorable. It's great inspiration for planning a little photo shoot of your own. if you don't have young kids, how about using a dog or other pet?
Sneak Peak at Mixbook's 2012 Holiday Cards
Over the next few weeks I will profile major photo companies and highlight what they are offering this season. Here is a look at Mixbook, one of my favorite online services for printing photo books, cards and calendars.
New Quick Card Editor
Mixbook has a new Quick Card Editor that enables you to create your card in an amazingly short 30 seconds, at least that's what they say. All you need to do is insert your own text, add your photo and place your order. Does it really take just half a minute? I tried it to find out.
Yup, the actually card creation process as far as editing text and photo placement goes is very fast. The Quick Editor allows you to choose photos directly from your computer as you go, you do not have to have previously uploaded them. There are so many really beautiful card designs, however,  that I spend quite a while looking at them before I picked my design. So technically, yes, it takes about 30 seconds once you have chosen your card style. That's great for busy people. Below is a 30-second video that shows how it works.
Something to note: If you use the Quick Card Editor, your choices are a little more limited than Mixbook's usual total customization. Most of the cards offer several different background colors, though. For instance, the card in the center of the top row in the photo below below comes in green, blue, red, black in addition to the purple pictured. The font is pre-set by the design but you can adjust the size when you add the text.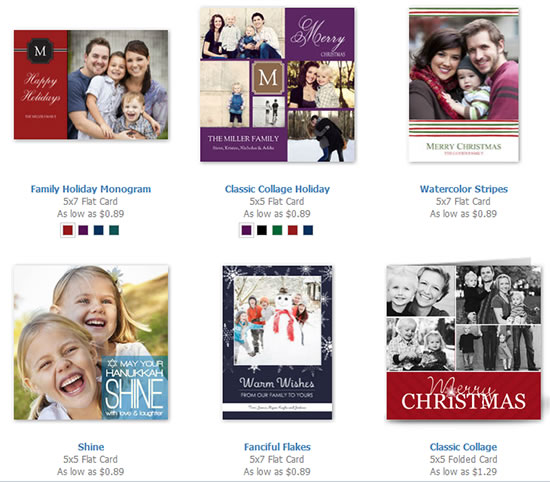 Customize Everything
If you want to go all-out creative, after you select your card and go to the editor, you can click on "modify theme" below the layout and you will be taken to the familiar Mixbook main editor where  you can change the background to any color you want, change the layout front and back, move things around, change the text font and color, add stickers…pretty much do anything. If you want to create your own card from scratch you can do that too, and start with a blank page.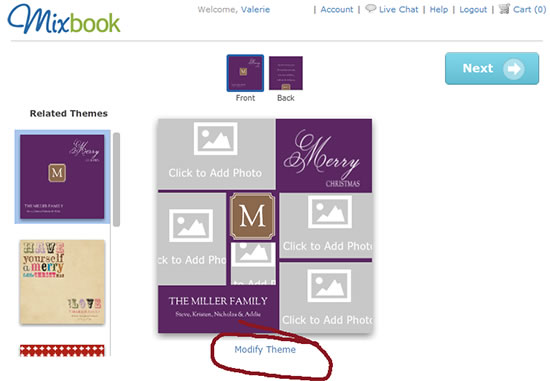 Card Stock
In addition to the various card designs, you can also choose from a variety of card stationary. Paper options are:
Satin Coated –  the least expensive coated card stock with a slight satin sheen.
Signature Matte – this is the default card stock with a smooth matte finish and it is mid-priced. This is the one I would recommend.
Premium –a rich matte finish on the thickest card stock. The paper is luxurious and is probably best suited to wedding invitations and the like.
Pricing
The cards are priced based on the card stock selected and the quantity. The higher the quantity, the lower the price. For the 5×5 square flat card "Classic Collage Holiday" (see purple card above) the cost for 30 cards is $1.21 for Satin, $1.64 for Signature and  $2.23 for Premium.  When you jump to 50 cards the price drops by 12 cents, 20 cents and 23 cents per card, respectively.
Discounts
Mixbook, as with other photo companies, will be offering discounts and promotions all throughout the holiday season, so be sure to check with my photo coupons and deals page to get the latest info. Trust me, there is no reason to pay full price with so many deals available. Visit Mixbook now.