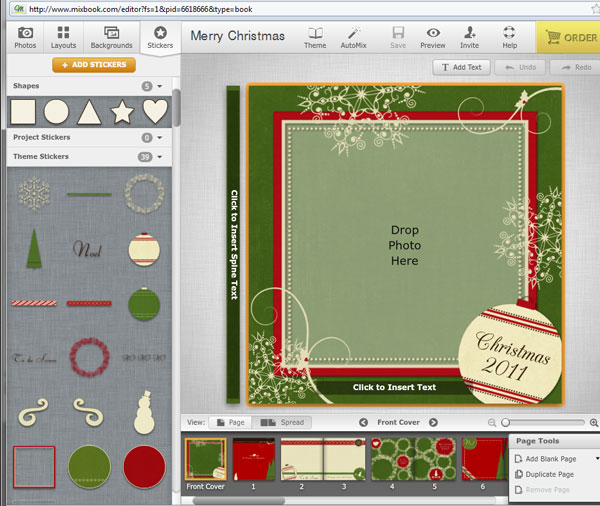 Many of us enjoy digital scrapbooking, but it's easy to get busy or lazy or both, as is sometimes the case with me. So I like easy. And in my experience, nothing is easier than using Mixbook to make digital scrapbooks and photo books.  While I've already written a detailed review, there are some creative things you can do with this amazingly flexible, easy-to-use, and best-of-all  free, online software that you will find very useful.
Create and Upload  Your Own Embellishments
One of the best aspects of Mixbook is that there are so many creative options. One of the features I especially like is that you can include your own artwork. You can turn your favorite mementos into unique stickers and page elements and upload them for use in your project.  This truly takes customization to the next level.
If you keep things like postcards, play bills, ticket stubs to major events, graduation programs, etc. you can scan them and upload them as stickers to embellish your photo book pages.  As a side benefit, you don't have to keep all that extra paper laying about, since you will have the items preserved in your photo book. The process of uploading your own stickers is straightforward. You need to save your scanned image as a PNG file in a program such as Photoshop so the background will be invisible. Then in your project page, click the  "add stickers" tab and you'll see an upload window. Just upload your stickers and voila! You will be able to review your new stickers in the stickers/embellishments section. I do not know of any other online photo book software that allows you to upload your own elements.
Use Your Own Digital Scrapbooking Kits
I find that Mixbook makes it easy to create unique scrapbook pages. While there are  thousands of themes, stickers and backgrounds and they are always adding to their library, their software is so user-friendly that you can even upload your own elements. You can use backgrounds, stickers and embellishments from digital scrapbook kits that you downloaded  elsewhere to use on your photo book. The process for uploading them to the book editor is similar to what is mentioned above.
Customize Templates
You can make photo books, memory books and scrapbooks, as well as cards and calendars, using their ready-made templates and backgrounds  or make your own template. You can customize everything, such as add your own captions wherever you want them on the page, scan your own vintage photos and upload them, move, re-size, add and delete photos anywhere on the page, and choose from a very nice selection of fonts. Colors are virtually unlimited.
Social Collaboration
Another favorite feature is the social collaboration. People can build their photo books or scrapbooks with their families and friends, and can quickly access the photos they need from a  number of photo sharing sites including Facebook, Flickr, Picasa, and Smugmug. After you've created your book you

can add it to Facebook or your blog.
In conclusion, Mixbook has the most intuitive, flexible and easy-to-use online software for people who want to make customized photo books but don't have the time to mess around with learning complicated programs. Click here for a detailed review of Mixbook's photo book features including book sizes, paper, etc.