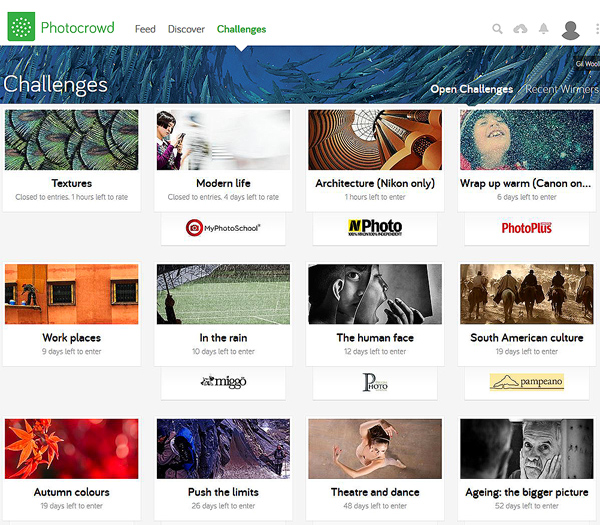 There are thousands of articles on the web with technical tips and how-to's on improving your photography, but nothing can beat actually getting out and taking photos. Shooting in different situations and all kinds of subjects is where the real learning and creativity come in. I ran across a pretty cool new photo site out of the U.K. called Photocrowd.com that helps you do just that, using photo challenges.
This photo community is different from other sites offering photo contests. Co-founders, professional photographers Mike Betts and Liam Bailey, created Photocrowd on the concept of participants getting group feedback as well as expert critiques. It's also a great way to get exposure—challenge winners have had their images appear in major publications like the Huffington Post, Digital Camera magazine and The Daily Mail Online. That's pretty hard to do on your own.
All levels of photographers can meet and showcase their best photos. The variety of challenges, or contests, encourage you to try new things, learn new techniques, and develop your eye as a photographer. They've partnered with companies like Manfrotto, B&H and Lowepro, so in addition to the potential exposure you have a chance to win some pretty nice prizes.
Photo Challenges Stretch Skills, Provide Real-time Feedback
I like the idea of challenges because we know we should be out shooting regularly, but sometimes we need new ideas on what to snap. It's also a way to see things we shoot all the time in a different way or a new perspective.
When you enter a challenge your image is viewed and voted on by other users using a 1-3 star rating system. You don't know how others have rated the same photo until after you have rated the image, so you won't be influenced by popular opinion. As I was going through and rating images, I realized that it was helping me learn to look at photos with a critical eye and not just rank them high because they looked "pretty." So far more than 100,000 images have been submitted and challenges have generated 15 million+ ratings from the Photocrowd community.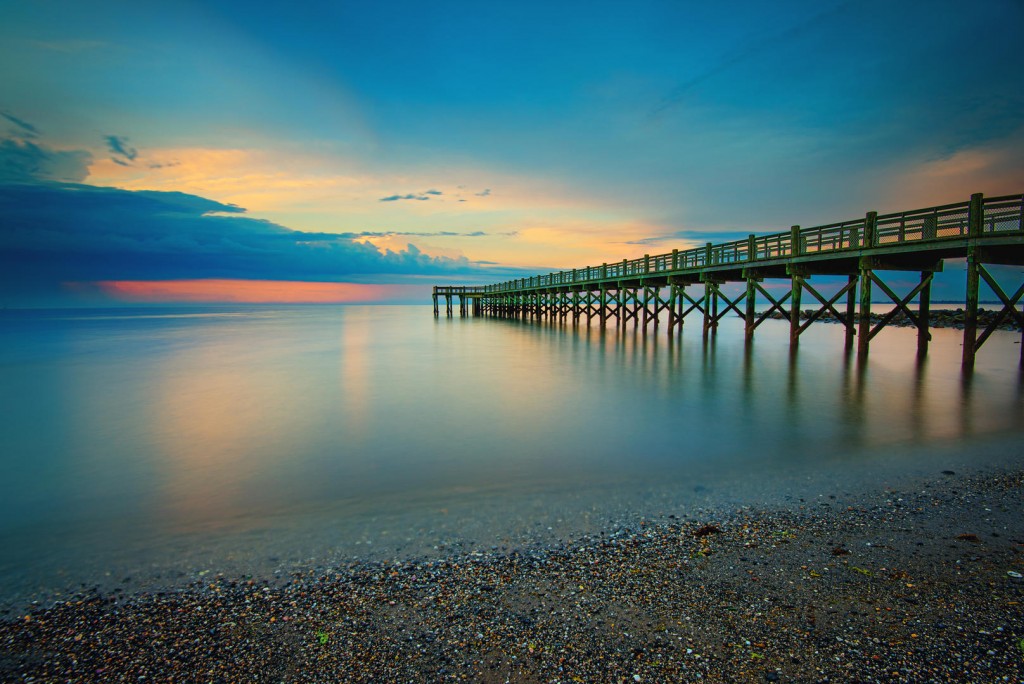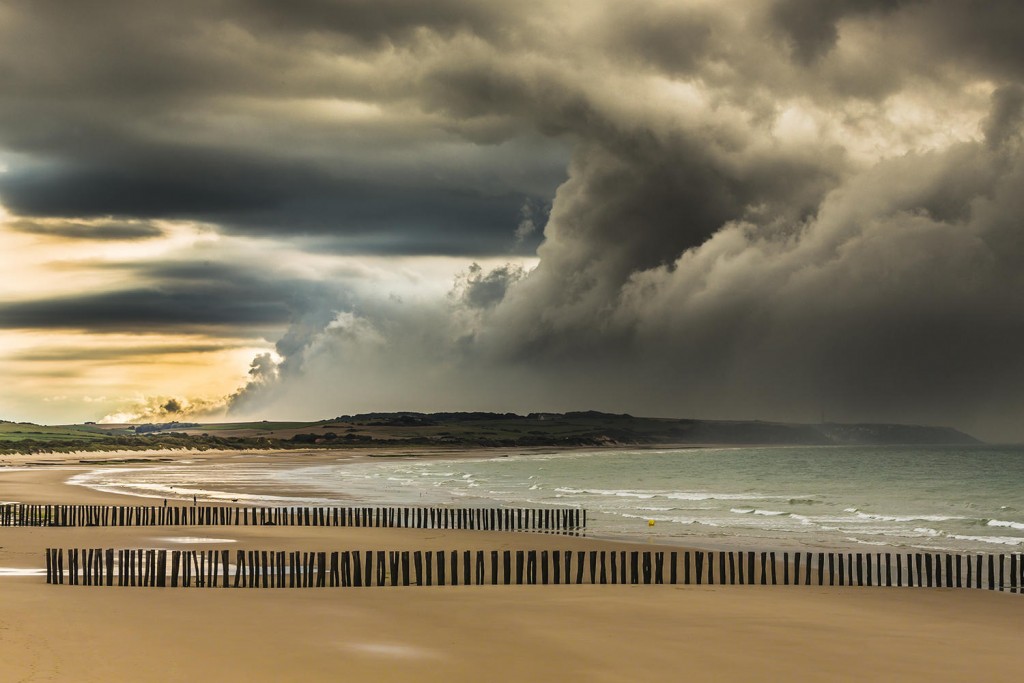 Expert Critiques
In addition to crowd ratings, challenges are judged separately by an expert, who also writes one or more image reviews. It's not often you get a chance to have your photo critiqued by the likes of Matt Kloskowski, Darlene Hildebrandt (Digital Photo Mentor), Jack Hollingsworth, or Stuart Freedman!
Looking at so many amazing images gets addictive. I found myself caught up in viewing photos and reading comments, especially the pro critiques. I also noticed the feedback from other users is done as constructive criticism, so it's nice to have a positive community where you can learn and improve without fear of getting slammed by wanna-be critics.
After a challenge closes, winning images are chosen by the crowd (based on votes) and by the expert. Recent prizes have included a portrait photography course, camera gear, and photo software.  Depending on the challenge and the sponsor, some top 10 finishers may have their images featured in the aforementioned online publications as well as exposure on Photocrowd's 'Best photos' page and social media channels.
One current challenge is called "Push the limits: show us your most adventurous shots in this challenge, with expert judging by Nick Cahill." Others include Architecture, Textures, Autumn Colors, Modern Life, The Human Face, and In the Rain.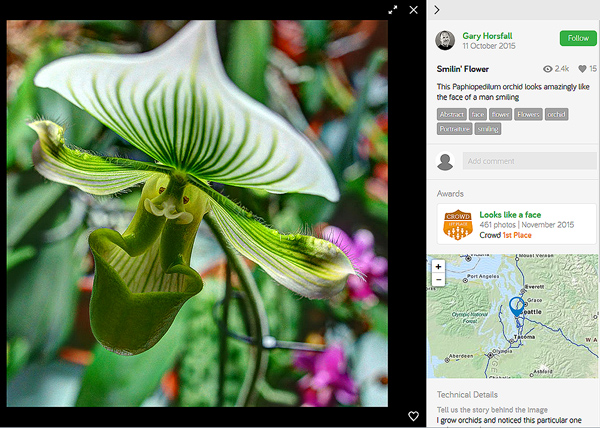 Are You Ready for a Challenge?
I know what you're thinking…you're too shy…you're not good enough…you only have a point-and-shoot…what if people think your photos stink? Well, I scanned quite a few images and looked at the camera data and saw everything from point-and-shoot images to entry-level DSLRs up to Mark III cameras. And guess what? Some of the images shot with "only" a point-and-shoot were amazing.
As for not being good enough, some photographers are beginners, others are serious enthusiasts, and others are pros. What they have in common is a love for photography and an interest in stretching themselves and trying something new.
Inspiration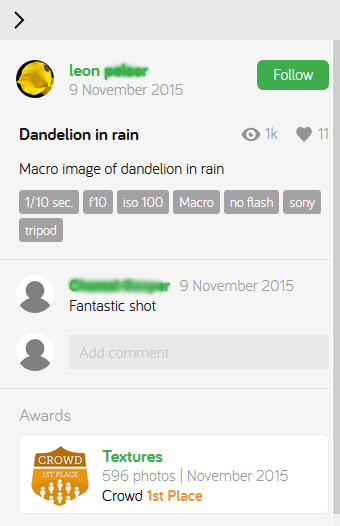 If you don't feel ready for a challenge yet, Photocrowd is great as a source of inspiration. You can select photographers to follow and their latest images will appear in your feed. It's an excellent way to see what people are shooting, what lens they're using, and the settings. I recommend you check out the winning photos and read the expert reviews. It's a really good way to see how the pros think and what goes into making a winning image.
More advanced photographers will find that showing their images on Photocrowd is a good way to get instant exposure if they're trying to develop a name and a following.
It's Free
You'll also be pleasantly surprised to learn that Photocrowd is free. In addition to the challenges, there are also free articles and tutorials and you can show off your best photos on a portfolio page with your unique URL and logo. According to the company, they plan to keep all current features free, though new features and upgrades are in the works that may not be.