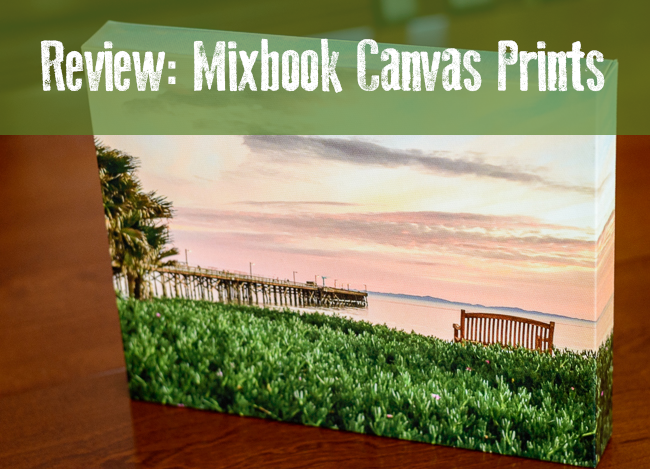 Mixbook has long been one of my favorite online services for making photo books, calendars, and cards because I know that I will get great quality and a lot of creative options. Now they've added canvas prints to their array of photo products. I got an email with a promo offer for a free 8×10 canvas, I just had to pay tax and shipping, so I decided to try it out.
A few months ago I'd taken a photo of the ocean and a pier in the early evening with a particularly spectacular sunset. Since I'd been meaning to print this image, it was the perfect one to try out with Mixbook's new service. I snapped this shot with my iPhone as my husband and I were on our way to dinner at a beach restaurant near Santa Barbara, CA.
Creating My Canvas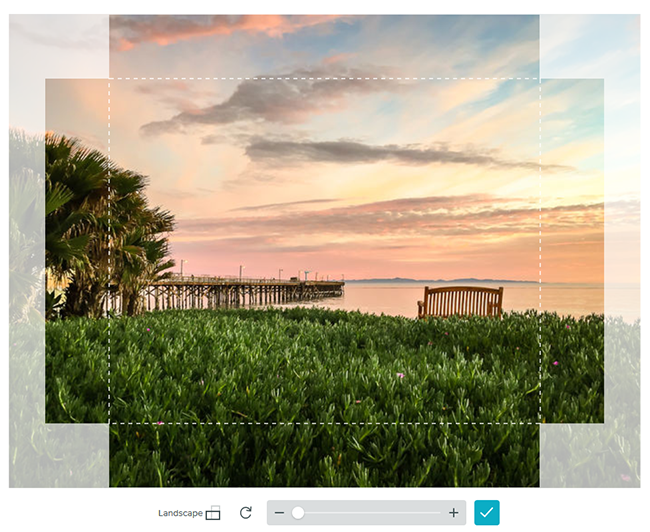 The process of creating and customizing your canvas art at Mixbook couldn't be simpler. You just drag and drop in a photo or upload one from your computer, select the size, and add it to your cart. You can pan and zoom and rotate your photo from landscape to portrait. If you choose a canvas size that's too large to make a good print based on your image's resolution, an orange warning banner will pop up. One thing I would like to see is a 3D preview of my canvas. Most other companies have this and I was kind of surprised not to find this feature.
Sizes
At this time Mixbook is offering five sizes, 8×10, 11×14, 16×20, 20×30, and 24×36, all with a depth of 1.25 inches. Since the promo offer was for a free 8×10 canvas, that's the size I chose.
My Canvas Print
Knowing firsthand what beautiful photo books Mixbook makes (see my review here), I was confident that I was going to love my canvas print. And I was not disappointed. When I placed the order it said my print would be delivered in about 10 days, but I actually received it in only five days. And it's stunning.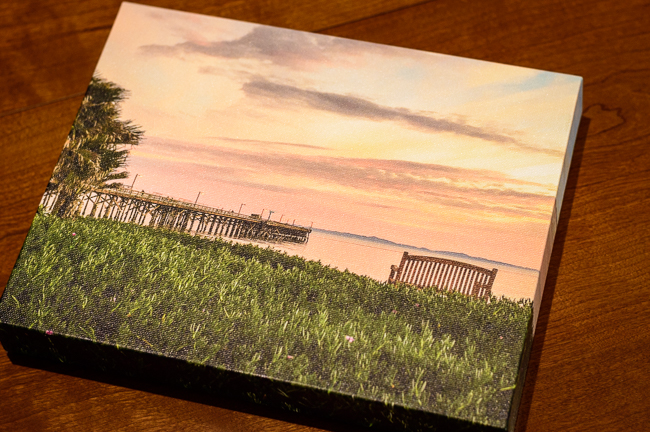 The quality is excellent, with a finished backing and mounting hardware.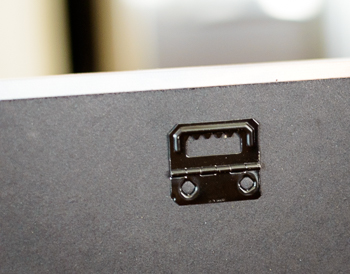 The canvas is textured and wrapped taut; the corners are stretched and wrapped perfectly. It looks like a painting. In fact, it's so beautiful that I wish it were a bigger size! When I tried out the photo in various sizes during the creation process, the guide indicated I could print my canvas up to 16×20, so I think I might order another one in this size. My parents happened to be visiting when my canvas arrived and they liked it so much that they asked me to make them a larger print, too.
My Wish List: Panoramas and Custom Sizes
On my wish list is a panorama size. On my "dream big" list is custom sizes. Due to the crop constraints for the print sizes, quite a bit of the side of the photo could not be included. A panorama would have allowed more of the image sides to be displayed. After I received my canvas, I got a survey from Mixbook and one of the questions was about canvas sizes and panoramas, so hopefully, it's something they will offer in the future. You can also only place a single image on the canvas, there is no option for multiple images or text, at least not yet. But again, those were questions asked in the survey so it seems Mixbook wants to know which features its customers are most interested in, so we'll see.
Canvas Cost and How to Save Money
As for prices, well they aren't cheap. The smallest canvas, an 8×10, is $49.99, going up to $164.99 for an extra large 24×36 inch print. But the quality is really, really good and a print like this is actually a pretty reasonably-priced way to create personalized wall decor for your home. They'll be great family gifts, too, for the upcoming holidays.
The good news is, Mixbook offers regular promos. While you may not be lucky enough to land a free canvas as I did, you can probably get a substantial discount. As I write this, you can get 30-50% off, depending on your order amount.  Their deals change weekly. If you want to create canvas wall art at Mixbook (or a photo book or other product) be sure to check out the latest Mixbook coupon codes, which I post weekly here on my coupon page. Design your custom canvas print here.
Have you made a canvas print with Mixbook? Tell me what you think about it in the comments.