Like many of you, in the last few months I've spent a lot of time taking online classes. For me, mainly photography and Photoshop video-based training courses, just 'cuz it's fun and I always enjoy learning more about photography. I've sampled a number of stream-on-demand learning platforms to see what suited me best. The one I enjoyed the most for photography training is KelbyOne. So I thought I'd do a review so you can see what I like about it.
What Is KelbyOne
KelbyOne
is a photography education website with hundreds of video courses offering photography, Photoshop and Lightroom training for all levels of experience. It's run by Scott Kelby, the photographer, Photoshop guru, and award-winning author of 80+ photography books. Chances are, if you've ever tried to learn Photoshop or Lightroom, you've probably watched at least one of Scott's YouTube tutorials or bought one of his books. I was lucky enough to take one of Scott's live photography classes when he came out to the west coast a few years ago. I learned so much in just a few hours.
KelbyOne is subscription-based with two reasonably-priced membership options. There's also a good-sized smattering of free courses to give you a taste of what's available before you sign up.
Taught By Leading Photography and Photoshop Expert Instructors
One of the best things about KelbyOne is the instructors' high level of expertise. There are over 140 photography and Photoshop industry experts with names you may recognize. In fact, the instructors' list reads like a Who's Who in the photography world. Aside from Scott Kelby, the other instructors include Corey Barker, Matt Kloskowski, RC Concepcion, Jay Maisel, Joe McNally, Terry White, Trey Ratcliff, Serge Ramelli, Lindsay Adler, Glyn Dewis, Rick Sammon, and many more.
Huge Photography Course Offerings
When I first logged into KelbyOne I felt a bit like the proverbial kid in a candy store faced with all kinds of tantalizing treats, but in this case, photography, Photoshop, and Lightroom
classes. There are courses for every level of photography expertise as well as skill level at Photoshop and Lightroom. The Pro Plan
membership ($19.99/mo.) gives you access to 800+ courses, while you have a choice of 300+ courses with the regular Plus Plan
($9.99/mo.). I'll give you more details on what's included a bit later.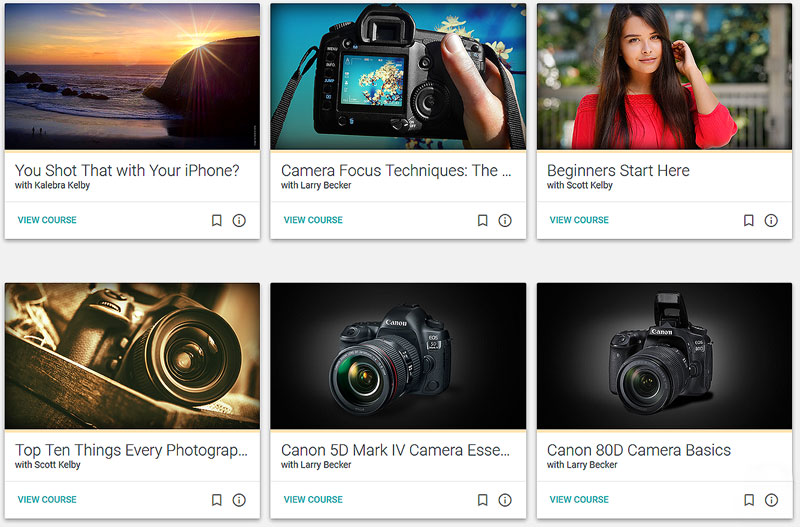 Among the dozens of course categories are:
| | |
| --- | --- |
| Adobe Creative Cloud | Lighting/Flash |
| Camera Gear | Lightroom |
| Composition | Photography Basics |
| Family/Child Photography | Photoshop |
| Fashion Photography | Portrait Photography |
| Food Photography | Sports Photography |
| Landscape Photography | Wedding Photography |
So far I've found the courses to be interesting, easy to understand, and delivered in small, manageable bites. This lets you start and stop as your time permits. If you forget something you can refer back to a course or section you bookmarked to review and refresh your memory. Each course comes with a written transcript so you don't need to take notes. The site keeps track of courses you've taken and also offers recommendations on related subjects. Videos are high quality and professionally filmed and edited.
What Are the Courses Like?
In my first venture on KelbyOne, I dived into Scott's course on "How to Remove Distracting Stuff in Photoshop." Because sometimes there are pesky objects that are really hard to remove and I thought I could get some new tips. And I certainly did. Scott showed exactly how he removed objects in different situations, what tool(s) he used, and the all-important why. I found that in many instances the cloning tool gave better results than the spot healing or healing brush. He also taught me a few shortcuts I hadn't known. Plus I was able to download the images he used and follow along, so you learn by doing.
As for the photography classes, I love Scott Kelby's as well. His classes are to the point, move at a reasonable pace and his sense of humor keeps things fun. Matt Kloskowski is another favorite of mine because he is just such a great teacher, his classes are well-paced and I learn a ton.
Courses are taught by experts in that particular style or topic. For instance, Scott Kelby on Photoshop
, learn how to capture dog photos with Kaylee Greer,
and Joe McNally
on Lighting and Flash. If you're into photo manipulation, advanced compositing, and 3D in Photoshop, then Corey Barker is your guy.

How are the Instructors
Most photography classes flow pretty well. For example, Tamara Lackey teaches a course on portrait photography with babies and toddlers. She walks you through everything from how to choose the clothes and set up the room to tips on capturing the special shots and responding to the children's changing moods and expressions.  She explains what she's doing and why.
For this KelbyOne review, I took a few different photography classes. While some of the other instructors are terrific photographers, there are times that their teaching doesn't quite translate when they virtually take you along on a photo shoot. A few times I found myself wondering what setting they used or had some other question. Since the courses are pre-recorded on-demand videos, they're not interactive. However, there's a tab on the course content where you can submit a question to the KO Ask An Expert staffers, but not directly to the course instructor.
If you're a newbie to photography, you may want to start with the "Beginners Start Here" course taught by Scott Kelby. In just under 2 hours he helps you get beyond auto mode as he shares his favorite camera settings, tips for getting sharp photos, and more.
Watch Photo Classes Offline
KelbyOne now offers the ability to take classes offline so you can watch whenever you may have a dodgy connection or no internet available. You can use their IOS or Android app.
Membership Levels
There are two levels of membership. Personally, I don't think you can go wrong with either membership. It depends on the amount of time and money you want to spend and both are very reasonably priced for what you get. In addition to the subscriptions, KelbyOne recently began allowing you to purchase individual courses if you don't want to subscribe.
One Plus Level – $9.99 or $96 annually
You get:
300+ courses
New course added monthly
A small selection of guided learning tracks
Access to Photoshop User and Lightroom digital magazines.
One Pro Level – $19.99mo or $199 annually
This expanded membership gives you a bunch of additional benefits to really put you on the photography fast-track:
800+ courses
New course added weekly
26+ guided learning tracks
Interactive community
Member discounts at B&H, Apple, Mpix, Skylum software, F-Stoppers and more.
Photoshop User and Lightroom digital magazines
Perks like presets, actions, ebooks, and quick how-to tutorials
Private members-only webcasts
Photography Learning Tracks
While you can take an individual course, you can also choose a particular photography track to follow. For example, if you're a beginner you might choose the Photography Fundamentals track which consists of 17 courses with 154 lessons for a total of nearly 22 hours of training. Or say you wanted to get into wedding photography. There's a Wedding Photography track with 21 individual courses containing 254 lessons and a total of 29 hours of training. There's even a track on Drone Photography. In all, there are 26 tracks.

Should You Join KelbyOne?
So what's the bottom line of my KelbyOne review? I've found the learning site to be a good value and a terrific resource for both improving your photography as well as editing skills. Even if you consider yourself pretty advanced, trust me, you will find plenty of courses to take your skills to a new level. There's a wealth of information, detailed training, and the site continually evolves with new training and other content. I give it a big thumbs up. You can check out KelbyOne here.
To help defray my website operating costs I belong to several affiliate programs. In some instances, I may receive a small commission for products viewed or purchased via my referral. Opinions are solely my own and I try my best to write honest reviews and only recommend products I use myself.