ScanCafe: Reasonably-Priced, Quality Choice for Photo Scanning
For  29 cents per Photo, Negative or  Slide It's Hard to Beat
Ordering process
Simple and easy to understand
Scan Quality
Very good to excellent scans with good color balance, exposure and detail.
Basic Corrections
Includes manual re-orientation, cropping, scratch and dust removal, color correction, red-eye removal
Basic Prices
$0.29 for 35mm slides (3000 dpi) and negatives (3000 dpi), paper photos (standard 600 dpi)
Special Features
Can review photos online and discard up to 20% free. All scans and color corrections done by hand. View, organize and share online. Photo restoration service available from $6.95
Tiff format
Files may be saved in Tiff format $0.19/scan extra
Special Media
APS, newspaper clipping/letter/full album page, b&w 35mm negative, medium format slide/negative, 110/126/127 color slide/negative
Shipping
Included
Turnaround Time
Standard: 30 days,
US Express Service: 8-10 days
If you've tried hand-scanning and correcting photos, slides or negatives, you know what a time-consuming, boring job it can be.  And if you still have dust-covered boxes in your closet filled with long-ago wedding, birthday, and vacation photos and other important images, there is an easier way of reviving those memories than the drudgery of scanning them yourself.
A number of services have cropped up that will scan and correct all your paper photos, 35mm slides and negatives, making it pretty painless for the consumer. One of the industry leaders is Scancafe, which has been around since 2006 and has scanned more than 70 million images to date. 
Low Cost Scans
While people have various needs and expectations, what  ScanCafe does best is process hundreds or thousands of images to digital at a significantly lower price than comparable online scanning services, and much, much cheaper than local services can offer.
For comparison, I checked out several local photo scanning services whereby I could drop off my images in person. The average cost was about 85 cents per 35mm slide and 59-89 cents per print, depending on the quantity. The cost at ScanCafe is an extremely reasonable 29 cents per photo, 35mm color negative or 35mm slide. If you purchase a "value kit" the price drops to 22 cents each for 600 images (minimum purchase $129.99). ScanCafe will scan other media such as black and white negatives and newspaper clippings for 99 cents each. They also convert video and film to DVD at very competitive prices.
Another pricing advantage is that the service lets you preview your images on the web and you can discard up to 20% of the scans and only pay for the ones you want to keep.
Price isn't everything though, and some people are naturally fearful of the "you get what you pay for" concept.  So let's take an in-depth review of ScanCafe's scanning process, image quality and the safety of your originals.
Shipping off The Originals
In order to get your images digitized, you are going to have to part with your originals for a while.  This might make some people cringe, but I don't see the need. The company uses a very sophisticated door-to-door package shipping and tracking system and each package is bar-coded, which enables the company to track the images throughout the process. Every order is under video surveillance when it is opened, counted and weighed and one workstation handles all parts of the processing, even for different material such as 35mm slides and paper photos. Customers receive status updates via email. Their site gives detailed packing information and they recommend putting photos and negatives inside sealable plastic bags (such as a ziploc bag), to protect from moisture.
Scan in Order
If you want your images scanned in a particular order, Scancafe recommends that you group them in the order you want them and pencil in the number on the back, i.e. 1, 2, etc. Original images are returned with a DVD of the scans. For an up-charge, customers may send in entire, intact photo albums or even slide carousels (although it is recommended to remove the slides instead of sending bulky carousels).

Turnaround Time
There are two main options depending on how soon you need your images:  with the traditional service the actual scanning takes place at their facility in Bangalore, India. This offers the best price of 29 cents per scan for photos up to 8x10, 35mm slides and 35mm color negatives. The downside is that it will take a good month before your scans are available for preview. If you can't get over the fact that your irreplaceable family photos are being shipped out of the country, and that you have to wait a whole month to see the images, you have a second option.
The company recently opened a scanning facility in San Francisco, allowing a much faster turnaround of 8-10 days. This comes with a slightly higher cost: 35 cents per image. With the steps the company takes to ensure the safety of your images (tracking system, climate controlled scanning facilities, entrance is via electronic badge, facilities are monitored 24/7, and images are stored in fire-proofed room) , in my opinion, having them scanned in India is not a big deal if you are willing to wait in order to get a cheaper price.
Quality of Scans
ScanCafe uses the Epson 4490s for paper photos and the Nikon 5000 or 9000 for slides and negatives. The images are scanned at 600dpi in jpg format by default and returned on a DVD. The scanning service includes the digitizing of images, automated scratch and dust removal and hand-color correcting to remove color casts and restore faded images.
Customer Satisfaction
Overall,  consumer satisfaction is high. Customers find their scanned images to be of very good to excellent quality with good color balance and exposure and sharp detail.
Some people have complained about some artifacting when the software removes the scratches and dust. During the review process, when you can look at the scanned images and sort and discard unwanted ones, you can ask them to re-correct the ones that you have a problem with. However, some people have said that the artifacting is not visible when looking at the small online previews, but was readily apparent when they received the full sized images. Some people also found that the red-eye correction could be better, even though ScanCafe says they do red-eye correction by hand, not automated software.
Make Your Own Edits
Some people, especially those more skilled with digital photo editing, may want to opt to just have their images scanned without any automatic correction or scratch/dust removal. You must request this when you place your order. The standard resolution is 600dpi for prints and 3000dpi for slides and negatives. if you plan on doing a lot of image cropping and editing or print big enlargements, you may want to choose the "Pro-Resolution" option where the images are scanned at 1200dpi. This costs an extra 9 cents each. Images can also be scanned in the TIFF format for 19 cents extra (vs standard JPG).
ScanCafe's Strong Points
Overall very good image quality - By and large, people are very happy with their images and would use ScanCafe again. Scanned images have good color and detail, they are well exposed and the sharpening is right.
Price – The price per scan is hard to beat versus other online scanning services and local photo companies. The real cost savings is evident when you send in several hundred or even several thousand images for scanning.
Restoration Service – If you have an image or images that have been damaged by water, mold, fire, severe scratches or tears or stains, ScanCafe offers a photo restoration service that can repair your photos, starting at $6.95 and up.
Scans Wide Variety of Media – In addition to scanning paper photos, 35mm color slides and 35mm negatives to digital, ScanCafe can scan APS, 110, 126, 127, medium, and large format color negatives as well as black and white negatives. They also digitize and transfer VHS, S-VHS, VHS-C, Hi8, Digital 8, and Mini-DV formats as well as old 8mm, Super 8, and 16mm movie film.
Only Pay for What You Want to Keep - After your images are scanned you have a chance to review them online. As mentioned, you can discard up to 20% of the scans and just pay for the ones you want. During the preview process you can view low resolution versions of your images, organize them and delete the ones you don't want, but you cannot download them. I must point out, however, that if you choose the "value package" which brings the scanning price down to 22 cents, you lose the option to review and delete unwanted scans.
Potential Pitfalls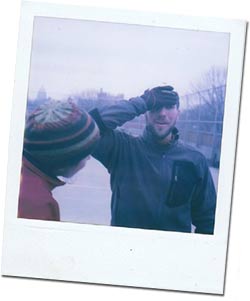 Cropping - A  possible issue is that old photos from the 40s, 50s and 60s with that nice white border that gives them that authentic look gets cropped off. You may not want that. Similarly, Polaroid photos with their tell-tale white border also get cropped. However, during the ordering process there is an option on the form called "optional scanning notes" where you can specify that you want to keep the border. There is no extra charge.
If you have a strip of negatives, they will all be scanned –  You cannot specify an individual frame to scan nor can you cut just one or two frames and send them in, you need to send in the whole strip. The only workaround is during the review process you can delete the scans of the frames you don't want, however, this eats into your allotment of allowable discards if you are having a lot of negatives scanned.
Patience is required. When you are given a "completion date" that means the date when your images will be available for preview online, not the date you will physically receive your DVD with the digitized images. It will typically take 3-4 weeks before your images have been scanned and are ready for previewing. Once you have reviewed them and completed your order, it will take another 2-3 weeks to get your DVD with the high resolution images. However, as mentioned, you can opt for the new US Express Service for an extra 6 cents per image and preview your photos in 8-10 days. The DVD will be shipped by UPS ground, so that will take another 5 business days.
Bottom Line
ScanCafeis a great choice for high quality scans at a bargain price. If you want a cheap price and are willing to wait for your scans, choose their standard service, which, according to their website, most customers select. Besides, if you have had all those photos stashed away for years, waiting a few more weeks may not matter. If you need them sooner, the relatively small price increase for express service is worthwhile, since the price is still lower than most other scanning companies.
Related Articles
ScanDigital Film & Video Scanning Review
iMemories Video to DVD Review
Photo, Negative & Slide Scanning Services
35mm Slide Scanning
Photo Restoration Services