Overview of 35mm Slide Scanning
Preserve Your Old Photos: Convert Your 35mm Slides to Digital Pictures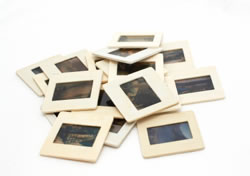 Over time, those old 35mm slides you have tucked away will likely have shifted color, faded or scratched and since you don't even have a projector anymore, you're probably trying to figure out what to do with them. Luckily, there is an easy solution to bringing them back to life: scan and convert them to digital pictures. While you could buy a slide scanner (not cheap) and scan them yourself, if you have hundreds or thousands of slides, it would be a monumental task to scan them and then individually correct them. A slide scanning service is the fastest, cheapest and most efficient means of digitizing and repairing your slides. Once they've been converted to digital photos, you'll get them on DVD or CD so you can relive all your photos right on your computer, share them and use them in new and creative ways.
There are two slide scanning services that I have found to produce excellent digital pictures from 35 mm slides at reasonable prices:
Scancafe. an award-winning scanning service rated best by CNN Money, and which received raves from Popular Photography, Cnet,MacWorld and pro photographers. They have scanned more than 70 million images to date and also convert VHS and film to DVD.
Scandigital, featured in Real Simple, Popular Photography and Redbook.
Scanning and Color Correction
Both ScanCafe and ScanDigital will scan your 35mm, 110, 126, 127 as well as 120/122 medium format slides and make individual image adjustments by hand. ScanCafe also does all scanning by hand. These services will perform common fixes including re-orientation, cropping, scratch and dust removal, color correction, and red-eye removal and will even repair minor damage. ScanCafe also offers a restoration service for more severely damaged slides.
How the Slide Scanning Process Works
Typically, you would send your slides to the scanning service, they will scan them on their state-of-the-art scanner such as the Nikon 5000 or Nikon 9000 ED and repair them. Built into the scanner is Kodak Digital ICE to remove dust and blemishes.
Color correction can be done both during the scanning process and afterward using image editing software such as Adobe Photoshop. After scanning and correcting, they'll put your digital pictures on their server for you to view. ScanCafe offers a unique option: you only pay for the scans you want to keep—you can discard up to 50 percent of the images. Both services service will burn your photos to a CD or DVD and return it to you all with your original slides. You can also get them on a portable hard drive.
ScanCafe scans slides at 3000 dpi while ScanDigital offers 2000 dpi or 4000 dpi. Slides scanned at 2000 dpi or higher are suitable for enlargements. (DPI means dots per inch and represents the resolution, sharpness and clarity of your digital picture when printed.) Both companies will accept slides in carousels, magazines or other storage containers.
What Does Professional Slide Scanning Cost
For hand scanning and manually correction, it seems like it would cost a small fortune if you have a lot of slides, but scanning is surprisingly reasonable. ScanCafe charges $0.29 per 35mm image and if you have a lot of slides they offer a $0.22 /scan value kit. The only negative is that, because slides are shipped and scanned overseas and they scan and retouch by hand, the process takes longer, about 30 days. However, ScanCafe recently introduced new US Express Scanning for $0.35 per slide, and all scanning is done in the U.S. at their San Francisco facility. ScanDigital costs $0.68-0.88 cents per 35mm slide, and their turnaround is a fast 7 business days. Both companies produce high quality scans with crisp detail and good exposure.
Another nice benefit of scanning your images is that with both ScanDigital and ScanCafe, you can view and organize your digitized images at your personal online gallery, share them and order prints and other merchandise.
Preserving Your Photos Forever
Scanning your slides, photos and negatives to digital images and then preserving them on digital media like DVD's and CDs and online will ensure they are protected forever from color fading, damage, mold and other deterioration. Besides, it is a great way to de-clutter and organize your pictures. You can now sort them, date them and organize them into folders on your computer for fast retrieval. It also makes sharing with friends and family very easy; you can upload your digitized pictures to online sharing sites, create photo books or customized digital slides shows and much more.
Compare Services
Slide Scanning Service
Ordering process
Fast, easy and explained clearly
Easy and explained clearly
Scan Quality
Excellent images with good color balance and exposure and crisp detail. All scans done by hand.
Very good to excellent with good exposure.
Basic Corrections
Includes manual re-orientation, cropping, scratch and dust removal, color correction, red-eye removal
Includes manual cropping, rotating, color correction and redeye removal. Dust and minor blemishes removed
Basic Prices
$0.29 for 35mm slides (3000 dpi) and negatives (3000 dpi), paper photos (standard 600 dpi),

35mm slides 2000 dpi - $0.68, 4000 dpi - $0.88, 35mm & APS negatives 2000 dpi - $0.58, 4000 dpi $0.78
Photos 300 dpi - $0.48, 600 dpi - $0.68
Prepay for 1000 photo scans: $0.38 at 300 dpi or $0.58 at 600 dpi

Extras
Can review photos online and discard up to 20% at no charge. All scans done by hand for quality control. View, organize and share online. Photos available on portable hard drive. Photo restoration service available for extension damage repair from $6.95
Images can be viewed, organized and shared on line. Photos available on portable hard drive. Lifetime storage of scanned photos online. Also processes video and reel-to-reel film.
Tiff format
Files may be saved in Tiff format $0.19/scan extra
not available
Special Media
APS, newspaper clipping/letter/full album page, b&w 35mm negative, medium format slide/negative, 110/126/127 color slide/negative
Photo albums, scrapbook pages, 110/126/127 film, large and medium format photos, stereo slides, 2.25 inch slides, disc negatives
Shipping
Included
$10
Turnaround Time
Standard: 30 days, US Express Service: 8-10 days
7 days
Related Articles
ScanDigital Film & Video Scanning Review
iMemories Video to DVD Review
Photo, Negative & Slide Scanning Services
35mm Slide Scanning
Photo Restoration Services