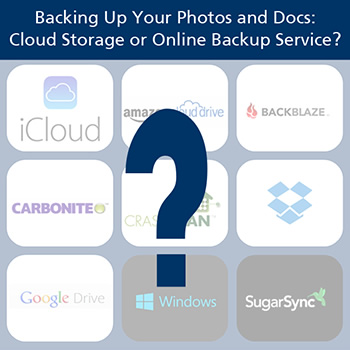 In my previous post, I covered options for storing your images on an online photo-sharing site. In case you missed it you can read it here. In this post, I want to cover other cloud storage and online backup options, including a handy comparison chart. After all, you most likely have other important items on your computer that you want to protect, and most image hosting sites store only, you guessed it, photos, and maybe video.
A big advantage of the cloud and online backup services is that you can back up any file type, including raw image files from DSLR cameras, which are generally not supported by photo-sharing sites.
A bit more about safeguarding your photos: One of the Facebook photography groups I belong to just had a discussion about this. The consensus seemed to be that you need more than one method:
An external hard drive alone isn't enough. They are great until they die. There are even instances when two external drives have failed.
CDs are iffy on readability after 10 years. Don't assume your files are safe forever if burned to CD/DVD. While the life expectancy is supposed to be longer, it often isn't.
A number of these photographers advocate getting rid of the bad photos first, then using online storage with daily backup plus an external hard drive.
Before I get into details on the various storage providers, let me explain the difference between "online backup"  and "cloud storage," which are both viable options depending on your needs.
Online backup services generally offer cheaper storage and provide automated backup of all your photos, videos, and documents (usually everything on your computer except system files). There are usually not a lot of special features; while you can usually access your files from any browser, you may not be able to sync files across devices. Carbonite is a good example.
Cloud storage means your files are backed up digitally in the cloud and when you make changes to your files they are automatically synchronized; you can access them anywhere, any time on multiple devices including iPads and smartphones. SkyDrive is an example.
Both cloud storage and online backup services offer a number of advantages, especially if you have a large photo collection:
Your photos are not just sitting on your computer, vulnerable to natural disasters, theft, or computer viruses and crashes.
Everything can be backed up to the same service, with no complications about different services for different types of files; however, some people actually prefer to have separate services for different file types  (i.e. photos on a photo site like Flickr) – it's your choice.
You don't have that pesky per-file upload limits from most photo-sharing sites.
A good option if you want to backup RAW photo files and large video files.
Most companies allow you to access your files from anywhere, anytime, as long as you have an internet connection and a browser. You can access, sync, and share your images from a multitude of devices.
Online backups are automated so you don't have to remember to backup new images or other files.
 Companies use encrypted, off-site secure storage to ensure your files stay safe and private.
Costs are reasonable.
Cons:
You won't find the same type of in-depth organization, tagging, sharing, and social community that most share sites offer.
If you need to restore all the files on your computer, as in the case of a system crash, it could take many days to download them all, depending on how many GB you stored. Online storage sites will ship you an external drive with all your files for a price.
With cloud storage, in some cases, you have to put all the files you want to be backed up and synced into a special folder. On some sites, particularly with cloud storage, Outlook files cannot be backed up automatically or synched.
Whatever type of service you decide to use, be sure you "read the fine print" so you know exactly what you are getting.
Online Backup and Cloud Storage Comparison Chart
Note: Plans are current as of this post. Be aware that services often change their plans and pricing. FYI, 5GB of storage is usually enough space for up to 1000-2000 photos, more or less depending on size.
Update: On August 22 2017, Crashplan announced they would be terminating their consumer plans and they won't be offering renewals or adding new subscribers. They're partnering with Carbonite to transition current subscribers, but if that's not for you, there are other very good plans for you to check out, including Backup Blaze.
| Service | Free Storage | Capacity | Price | Notes |
| --- | --- | --- | --- | --- |
| Amazon Cloud | 5GB | 1000GB Videos up to 20 min. | 20GB $10; 50GB $25/yr; 100 GB $50/yr; 200GB $100/yr; 500GB $250/yr; 1000GB $500/yr | File sharing. Android and iPhone app for uploading photos from phone or tablet. Access from multiple mobile devices and any computer. |
| Apple iCloud | 5GB | 55GB | 25GB $40/yr; 55GB $100/yr | Online slide shows, captions, geo tags. No file sharing. Only access on iPhone and iPad |
| Back Blaze | Free trial | Unlimited. Supports external hard drive backup | $5/mo or $50/yr; $95 2 yrs. | Full system backup. Access from any web browser, mobile app for iPhone, iPad, iPod. Backup external hard drive included. |
| Carbonite | No; 15-day free trial | unlimited | $59.99/yr Hard drive backup extra $40 (PC only, external drive n/a for Mac) | Automatic photos, music, document backup; manual video backup. After 200GB backup slows down a lot. No file sharing. No syncing. |
| CrashPlan | no | Unlimited | 10GB $32.99/yr; unlimited 1 computer $59.99; unlimited multi computers $149.99/yr | Auto backup of all your files. Free backup of external hard drive, deleted files can be restored. No file sharing. No syncing. |
| Dropbox | 2GB | 500GB | 100GB $9.99/mo or $99/yr; 200GB $199/yr; 500GB $499/yr | Get up to 18GB more free space per referral. Photo, video, doc sharing. Post to Facebook, Twitter, add photo captions. Files must be moved into Dropbox folder for upload. |
| Google Drive | 15GB | 16TB | 100GB $4.99/mo; 200GB $9.99/mo; 400GB $19.99/mo | Doc files, emails and photos. Space shared between Google+ Photos, Google Drive, Gmail. Your files are not encrypted locally before uploaded to cloud. Files must be stored in Google drive folder but they will be automatically synchronized. |
| Microsoft SkyDrive | 7GB | 107GB | 27GB $10/yr; 57GB $25/yr; 107 GB $50/yr | Accessible anywhere. Edit online. File share. Online slideshows, post to Facebook, Twitter, geotags, captions. Must move files you want backed up into SkyDrive folder. |
| Sugarsync | 30-day free trial all plans; 5GB free | 500 GB (> 1TB for business) | 60GB $7.49/ mo or $74.99 yr; 100GB $24.99/mo or $249.99/yr; 500GB $39.99/mo or $399.99 yr. | Access any device. sharing & collaboration. Drag-and-drop sync. Can back up all files on your computer automatically, i.e. MyPictures folder. Business plans available. |
Looking at the chart above, I think your choice comes down to what fits your needs. If you want to back up all your docs, video, and music as well as your photos, and you have more than 100GB to back up, an unlimited plan looks like the best deal. If you want a few more bells and whistles and don't need as much space, go with one of the cloud storage plans like Amazon or Skydrive. Did you know that if you have an Amazon account, you automatically already have 5 GB of free storage in Amazon Cloud? Likewise, you get free space automatically with Google+.
I'm all about being cautious, so if you have really important stuff and priceless family photos, consider keeping a secondary backup such as an external drive.
For my photos and other files, I use Carbonite to back up my entire computer, but after doing the research for this post I am considering switching to Backup Blaze or CrashPlan because, while both cost about the same, the latter two backup your external hard drive as part of their base plan, and Carbonite charges extra. I also have a Flickr account for fun and for a few things, like my automatic WordPress backup, I use the free 2GB offered by Dropbox.
For the last several days I've been helping my husband deal with a persistent computer virus on his laptop, in spite of having anti-virus software installed. It brings home the importance of having your photos, music, videos and all your important documents backed up. So go on, pick a backup system, and get your stuff protected.
**Update November 1 2016** If you're still unsure about which cloud backup plan to get, I ran across a site called Cloudwards.net that explains, in an easy-to-read format, everything you'd want to know about cloud backup. They tell you which services are the fastest, the easiest, and the best ones for unlimited backup and why. They also have video reviews of 11 different providers.
Related Posts:
Backing up Your Photos: Comparison Review of Photo Sharing Sites
Save
Save
Save