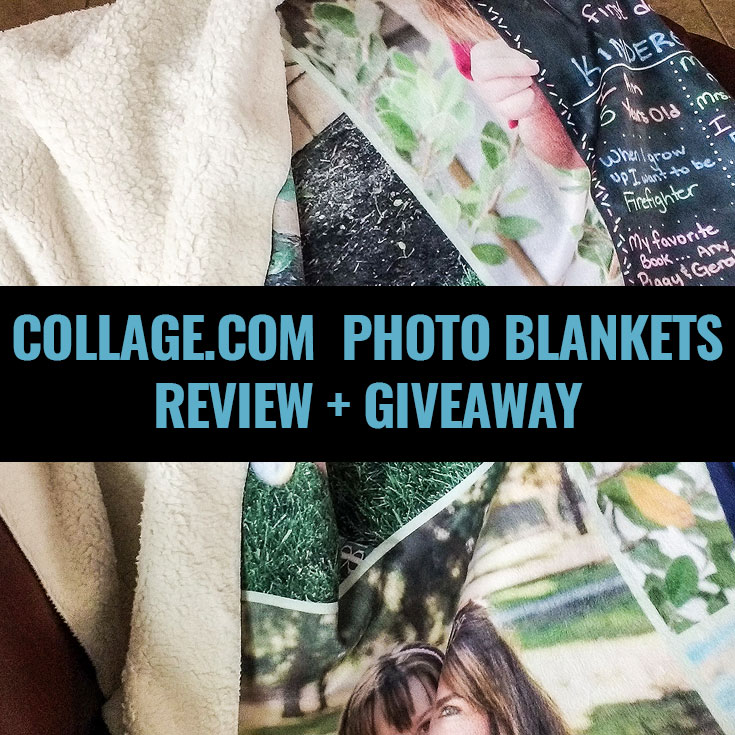 If you've seen my other photo reviews, you know I like to make photo gifts, especially for Christmas. Collage.com gave me the opportunity to review their photo blanket products, so with the holidays coming up, the was perfect timing. (Disclosure: I received a complimentary blanket for this review, but all opinions are my own, based on my personal experience).
Before I get into all the nitty-gritty details, I want to start by saying that the Sherpa fleece blanket I created is gorgeous! Aside from great color reproduction and sharp photos, it feels super soft and cuddly and well-made. It's thick enough to have some heft without being too bulky. I designed this blanket to give to my mother for Christmas and I can't wait for her to see it; I know she'll love it.
So on to some details. As I said, I've made a lot of photo gifts over the years, and many popular photo companies offer photo blankets. But no other site that I've run across has the same ease of use, flexibility and sheer number of options that Collage.com features. You can pretty much do anything with your collage design, from layout to text/positioning, background, fabric choices and more.
And right now, courtesy of Collage.com I'm giving away a photo blanket so you can try them out yourself and create a collage blanket for you or for a holiday gift! I'll send you a code for a credit to use on any photo blanket from their blanket page (with free U.S. shipping included), so you can go all out with all the bells and whistles! All you need to do is leave a comment below telling me who'll be getting the blanket you want to make  — is it for you? A special someone? I'll do a random draw and contact the winner through the email provided when leaving a comment. This photo blanket giveaway ends at 11:59pm PST December 15, so don't forget to leave your comment!
Design Process
The blanket design process is incredibly easy with some really fun options. Even if you're "technology challenged" you'll find the whole process simple.
First off, you can upload as many photos as you want from your computer, Facebook, Google Photos, Instagram, even via text or email. Many other companies limit you to a set number based on a set template. Personally, I prefer uploading original images either from my computer or Google Drive, partly because I want to make sure I'm using full resolution images, not compressed ones from Facebook, and I also like to edit them first.
Easy and Endless Customization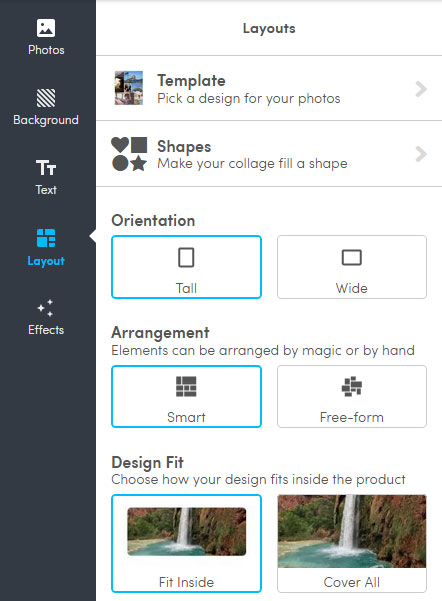 The heart of Collage.com is their innovative design software. Here in the Editor menu (see image above), you can choose from an array of templates, go with a completely custom layout, make your collage into a shape, change the orientation and change the arrangement.
In fact, I found it easy to lose track of time experimenting with the many ways I could design my blanket. In the end, I decided to keep it simple with a straightforward collage.
Smart Arrangements
One of my favorite features is the "Smart" arrangement. Don't like the first layout? When you have Smart selected, just start dragging one image to another location and the other images will magically fall into place. You can also shuffle the images for a completely different layout instantly. If you want total control to put every photo exactly where you want it, you can do that too by selecting the Free-form option. Plus, you can make an image overlap another, add a name or title to the top or bottom, a monogram, a block of text or a quotation, all with various positioning, color, size and font choices.
Custom Backgrounds
The background tool allows you to create anything from a custom, complex background pattern to a simple solid color using popular color options or by creating your own color mix. You can also choose from a range of pre-designed themes such as holiday, Romantic, Family, Vintage and more. For my blanket, I created a custom shade of light green that would work well with my Mom's décor.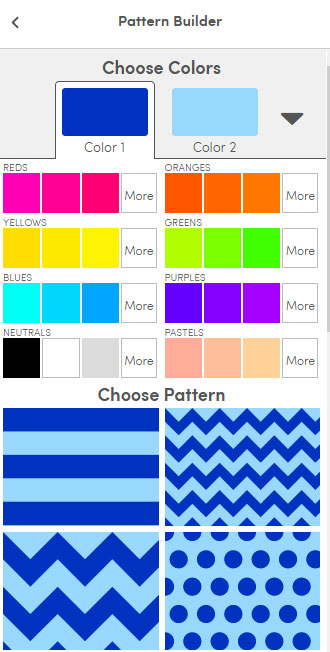 Editing Tools
Also within the designer and simple editing tools. To crop an image, click on image and the editing tools will appear. Click the crop button, drag the lines to crop the image and all your images will magically resize to fit perfectly with the newly cropped photo.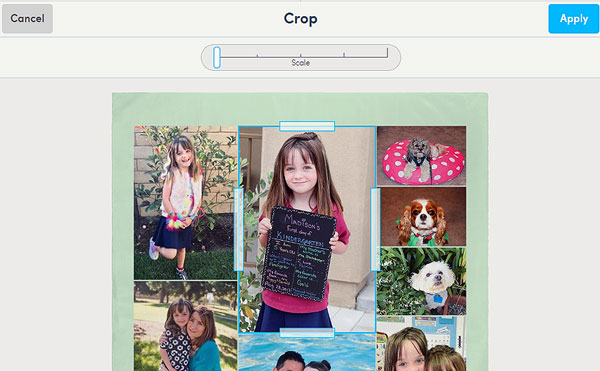 When you use the cropping tool, the other images in your collage automatically adjust to fit with the newly cropped photo.You can adjust the saturation, lighting, fix red-eye, remove blemishes, whiten teeth, and add special color effects, frames and stickers.
Unique Designs
All these options allow you to make a truly unique blanket; you aren't limited to a few pre-designed templates. What's really nice is that you don't have to pre-select your template before you start and then find you're stuck with it. I find that super frustrating when I've worked with other photo companies. With Collage.com, at any time during the creation process you can change any option. It's very cool.
Fabric Choices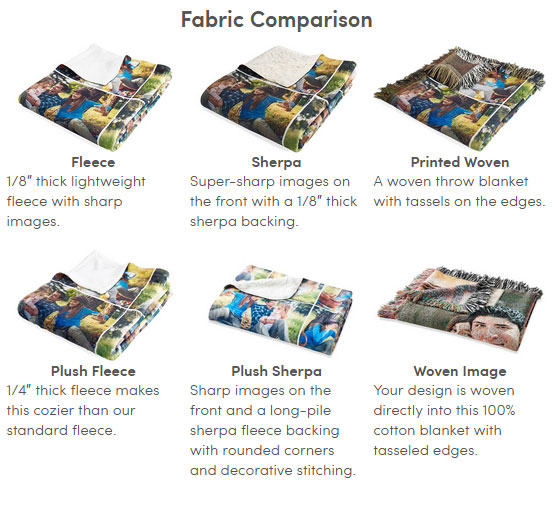 There are four main fabric options: Fleece, Sherpa (a heavier, super cozy fleece), Printed Woven with a cross weave or Woven Image where your photos are woven right into a cotton blanket. The Fleece and Sherpa also have "extra plush" upgrades.
I chose the Sherpa blanket, which features Sherpa arctic fleece with my photo collage on the front and cream-colored Sherpa fleece on the back. With the regular fleece fabric, you would also have the option to print additional photos, or repeat the same ones, on the reverse side.
The Sherpa fabric has kind of a brushed suede texture on the photo side and the back is soft and fleecy, resembling sheepskin. It's 100% polyester and machine washable in cold water. I really love the texture of this blanket. It will be nice and snuggly on cool winter evenings, but it's not too weighty and hot.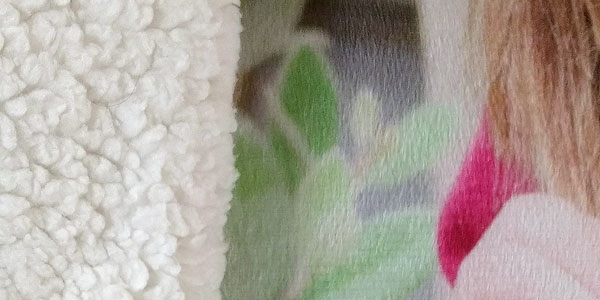 Sizes
The blankets come in four sizes, as opposed to most companies, which generally offer 50″x60″ and 60″x80″ only.
| | | | |
| --- | --- | --- | --- |
| Baby | Standard | Large | Jumbo |
| 30″x40″ | 50″x60″ | 60″x80″ | 90″x90″ |
How Does My Blanket Look?
The photos on the front of my blanket look terrific! I'm so excited for my mom to see it. My neighbor happened to pop over and I showed it to her and she was quite impressed as well. She thought it would be a good gift for her grandkids.
I had been wondering how the pictures would come out when printed quite large on 60×80-inch fabric, but I had nothing to worry about. My collage contains 10 images so they're fairly large, though you can  have an unlimited number of photos. The pics have sharp detail and the color is lifelike and look just like the original images. Remember that you need to start with good quality, sharp photos, because no printing process can make up for blurry images or poor color.
Blanket Care
The photo blankets are even machine washable; before I'd even received my blanket, I got an email from Collage.com with care instructions. Some people may find their blanket has a slight chemical odor from the printing process (mine didn't), but they say a machine wash in cold water (be sure to hang to dry and don't put it in the dryer) will take care of it.
Prices and Guarantee
While the blankets are not inexpensive — they start at $79.99, new users will get a coupon code for 60% off their first order (look for a banner in the upper right corner of their home page). There are also frequent sales, so the prices end up being pretty reasonable. While I didn't need to use it, the company offers a 100% satisfaction guarantee; if you're not happy with your product they'll make it right or refund your money.
Bottom Line:
While many photo sites offer photo blankets and other gifts, Collage.com is a standout for their innovative, super easy-to-use software, endless customization and high quality products. I look forward to using them again and can whole-heartedly recommend them.
With all products printed in the U.S.,  Collage.com specializes in custom photo gifts. Aside from blankets they also offer pillows, canvas prints and other home décor, as well as photo books, posters, calendars and more. I'm thinking pillows featuring a single photo of each of the dogs in my family might be my next photo gift project.
Photo Blanket Giveaway
Leave a comment below telling me who'll be getting the blanket you're making. I'll notify the winner via email. This collage blanket giveaway ends at 11:59pm PST on Dec 15. Good luck!
This giveaway is open to anyone 18 or older. No country restrictions, but please check with Collage.com to make sure they ship to your country if you have any question. Canadian entrants may be required to complete a simple skill text in order to comply with Canadian law. The residents of Quebec are not eligible to enter. Entries (via comment below) must be received by Friday, Dec 15, 2017, at 11:59pm PST. One entry per person. A winner will be chosen randomly using Excel Draw. I will announce the winner's first name only on my blog and email the winner. The winner will have 24 hours to respond or I will redraw another entry. The winner will receive a coupon code to apply to their Collage.com order.  Coupon expires 1/1/2018. Winner will be solely responsible for any taxes due on the product including but not limited to sales tax, tariffs, duties and fees as well as any income tax obligations if any. Disclosure: I received a complimentary blanket for this review and giveaway. This giveaway is sponsored by Collage.com. My opinions are my own and I always give my honest opinion based on my own experience.