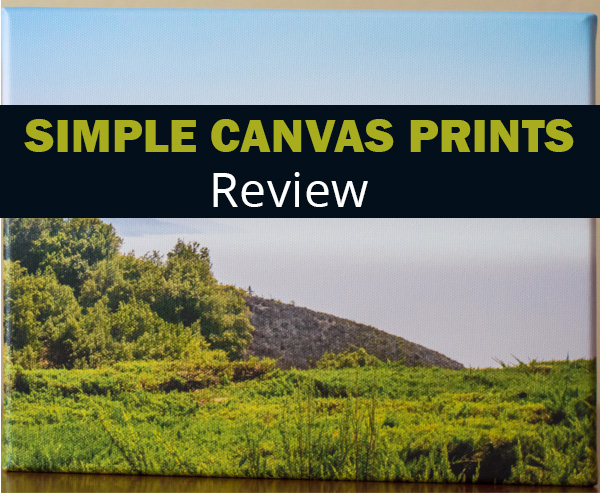 I've been making canvas prints lately as an easy, relatively inexpensive way to spruce up my home décor, as well as for gifts for family members. They make really beautiful artwork and if you enjoy photography, why not show off your work, right? Recently Simple Canvas Prints provided me with a complimentary canvas and I wanted to share my thoughts and experience in this review. The company offers factory-direct pricing and a 100% guarantee, plus plenty of canvas sizes and frame/wrap options.
A Quick Summary of My Review
Quality of Canvas
The final product is just beautiful. The wrap on my canvas is tight and wrinkle-free and the print quality is excellent. The colors are rich and vibrant. The canvas itself is of high quality with a tight weave.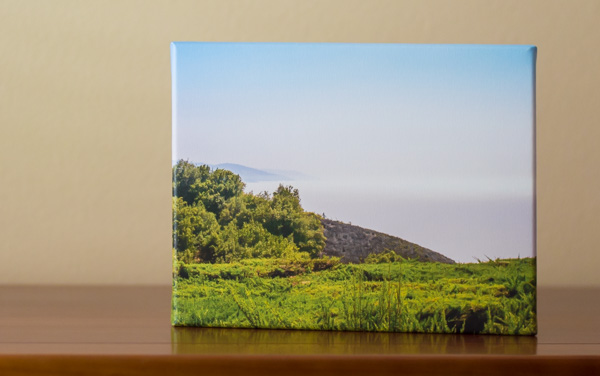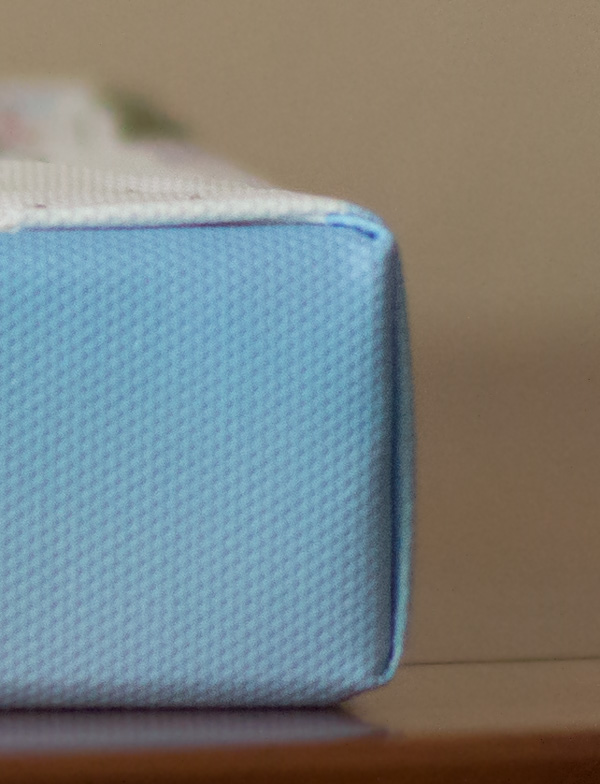 Ease of Ordering
Once I decided which photo I wanted to use, the order process was, as the company name implies, very simple. The site is attractively designed and easy to navigate. I selected my canvas size and uploaded my image–you can upload it from your computer, phone, Facebook, or Instagram. Next, I chose my canvas wrap and border style (more on this below) and then I was able to crop, or reposition, my image so nothing important got wrapped on the sides of the final canvas. The only thing that kind of surprised me was that there wasn't a final preview of my image; after I chose all my options I was led to checkout.
Design Services
There are also extra services available for enhancing your image. You can get a simple image touchup to adjust color or contrast, more detailed adjustments like dust and scratch removal, or you can choose to work with their photo experts for more advanced restoration, such as object removal or fixing faded, torn, or stained images.  Costs range from $3.49 for simple color adjustments to $19.95 for more extensive retouching.
Production and Shipping
My canvas was delivered very quickly. I placed the order on Thursday and received a shipping confirmation Monday, and my print arrived on Saturday, shipping from the East Coast to the West Coast. Nine days, start to finish, which I think is pretty good.
Prices
The prices are competitive, particularly for larger canvases; their website posts a chart listing all print sizes and the price for each canvas wrap style, so there are no surprises. The best part is shipping is free on orders over $49.99. Here are some sample base prices for common sizes:
Canvas
Size
.75 inch Frame
1.5 inch
Frame
8×10
$21.38
$31.38
16×20
$42.89
62.89
20×24
$52.66
$78.16
24×36
$70.33
$103.33
Customer Service
This is one of Simple Canvas Prints' strongest points. There's live chat and a toll-free support number (Mon-Fri 9-5 EST) and a comprehensive FAQ that should answer most if not all of your questions. As part of their 100% satisfaction guarantee, the company will reprint or refund your money, including shipping, for any reason, even if you made the mistake.  I think that's pretty awesome. As my print came out just the way I wanted, I wasn't able to test out this part of the service.
The Details
Canvas Sizes
You can choose from  32 different sizes, landscape, and portrait, from 8×8 up to 36×36 inches. For this review, I chose an 8×10 canvas and then I was guided to upload my image.

Canvas Wrap and Border Styles
On the next screen, I was presented with three canvas wrap options – .75 inch wrap, 1.5-inch wrap, or a rolled canvas. I chose the 1.5-inch wrap because I think it gives canvases a richer, more gallery-like look and it's consistent with previous prints I've made.  Note – there is an extra cost for the deeper frame; the amount depends on your print size.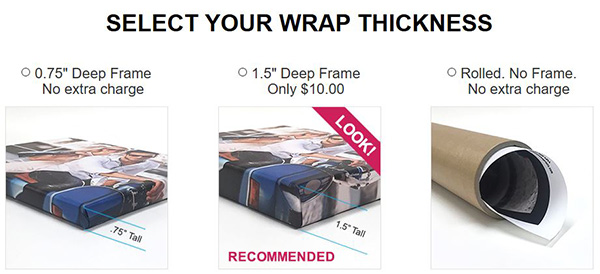 Then I was asked to select a border style – photo wrap or a black or white border. I chose a photo wrap. Something to keep in mind:  if you choose a photo wrap you'll need to make sure you allow an extra .75 inch on all sides for the .75-inch wrap and an additional  1.5 inches on all sides for a 1.5-inch wrap. This is pretty standard unless you are choosing a colored border instead of wrapping the canvas around the edges. So, for my 8×10 canvas, I had to make sure my original image was at least 11×13 inches.
Cropping The Canvas
You'll be able to check that your image is cropped the way you want it, so nothing critical will get cut off when the image is wrapped around the frame. On this screen (see below) I was able to reposition the crop area.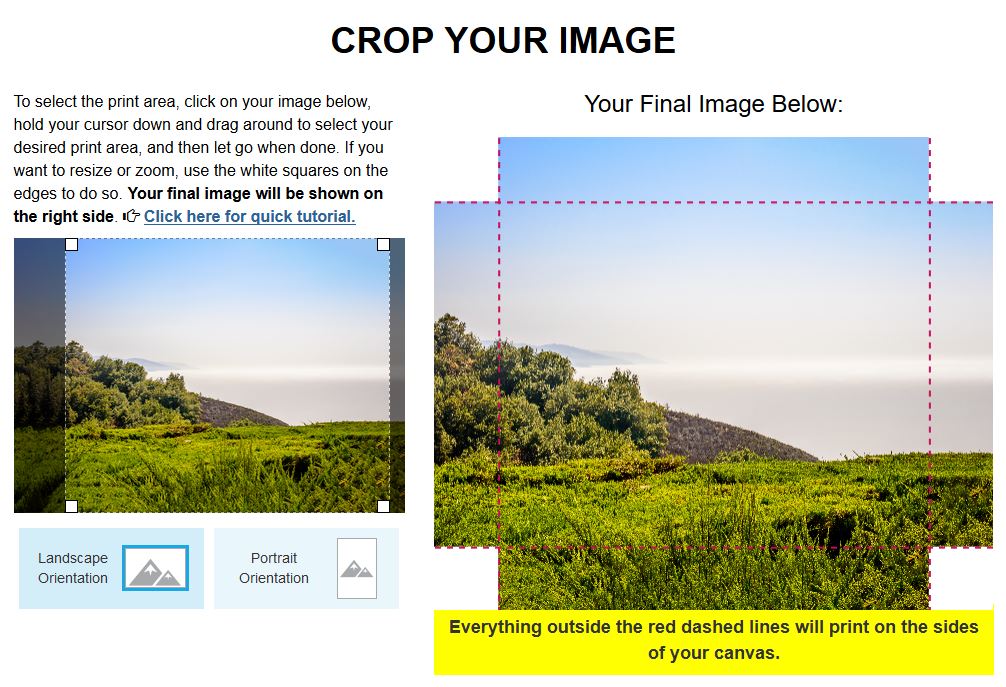 Canvas Wrap
Tip:  With a canvas wrap, the edges of the original image will be "lost" because they'll be on the sides instead of the front of the canvas.  If you're making a large canvas, say 16×24, then it's probably not an issue, but on smaller canvases like my 8×10, it can make a difference. Since I wanted to be sure that key areas of my composition were on the front of the canvas, through the magic of Photoshop's Content Aware Fill,  I extended the sides of my image to give me more leeway in positioning the crop.
Optional Black and White Border
If you want to be sure that your entire image prints on the canvas face, you can opt for a black or white border instead of the wrap. Some canvas printers offer the option of a "mirror border" in the wrap area, which automatically duplicates the edges of the image on the sides of the canvas, so you don't lose anything critical on the face of the canvas. It works particularly well with landscapes. A mirror border would be on my "wish list" for Simple Canvas Prints.
One thing other that I wish were possible is to see a larger version of my final print, or better yet, a 3D preview before I press the order button. You do see a preview with red dotted lines indicating where the canvas will wrap on the sides, but it's rather small on screen and I tend to like big. A trick that helped me: I used my browser's "enlarge screen" function to make the preview bigger.
Photo Filters and Image Touch-Ups
Before you place your order, you can choose from a number of additional options. You can add a photo filter for creating a special effect on your canvas. B&W and Sepia are free, while others including Oil Painting and Pop Art are $4.99. You can also upgrade to Museum quality fine art pearl finish, mount your canvas in a black frame, and select from several different framing hardware.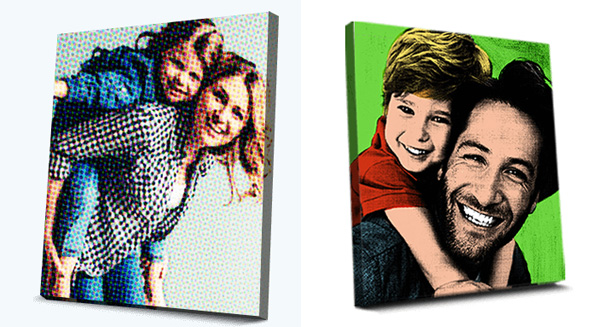 A final option is a design service for Image touch-ups. These range from minor blemish and scratch removal and color tweaks to major adjustments and retouching. As I had already made my adjustments in Lightroom and Photoshop,  my canvas was good to go.
Canvas and Ink
It's important to me that my prints last for a long time, so I want to make sure that I order from a company that uses quality inks and canvas. The canvas material is an archival quality 6.5 oz.  canvas from 100% polyester spun yarn and it's treated with a UV, water, and fungus-resistant satin coating (but hanging a canvas print in your bathroom is never a good idea due to the excess moisture).
The company uses HP water-based latex inks, which bear the UL Ecologo and Greenguard environmental certifications.
Final Thoughts
Simple Canvas Prints offers a very good selection of canvas sizes and style options. They're competitively priced, you can snag free shipping, and the print quality is excellent. You may want to check them out the next time you want to turn your favorite photo into custom canvas wall art.
How to get the best deal at Simple Canvas Prints: If you sign up for their free newsletter (look for it at the bottom of their home page), you get a coupon for $10 off.
I may be compensated through the links in this post, but the opinions are my own. This compensation helps me keep this blog going.