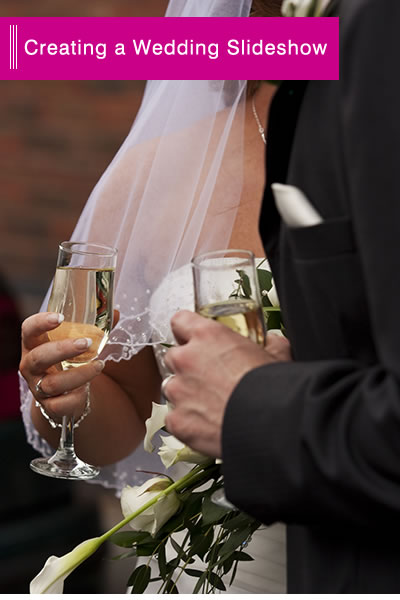 Wedding slideshows are so much more fun to look at than the traditional leather-bound photo album. Slideshows give the photos life and allow viewers to feel like they are right there experiencing the magic of your special day. It's also a great way to share your courtship with your guests, especially for those who live out of town and may not know your spouse-to-be that well.
You can give them CDs or DVDs as favors at the reception or they can be used later when sending out thank-you notes. Couples are also using slideshows as gifts for favorite aunt and uncle birthdays, grandparent Christmas gifts, and a range of other special occasions.
While there are many great ways to use them, here are a few tips on creating the most exciting wedding slide presentation possible.
Use Only the Best Photos
Try to choose photos that are better than others. This doesn't necessarily mean the quality of the photo, but rather, if the picture is taken from too far away and you can't really see what the focal point is, don't use that photo. Try to use pics that tell a story and show something interesting or appealing. Close-ups are super.
Variety
Don't choose all the same kinds of pictures. For example, if your photographer only shot formal engagement photos from her studio or the location you chose for picture-taking, try to include some others, as well, to brighten and change up the ambiance of the slideshow. Mix up close-ups with shots taken further away. Use some of the photos that guests took at the reception, use some from your bridal showers, and try to mix things up to make the show more exciting.
Tell a Story
Think about the order of the photos. You might like to do them in chronological order starting from your engagement, or you may decide to grab photos from the actual wedding day. If you have a theme or story in mind, then choose photos that can tell the visual story along with your verbal or written story.
Add Music
If you decide to use music, choose accordingly. In other words, if the show is for public viewing, then don't use music that is overly loud or vulgar. Perhaps it's not the best time for Gangnam Style or a song with risque lyrics. It may seem fun now but think about 10 or 20 years down the road.  Also, some couples are presenting the slideshows of their courtship right at their own receptions, so again, you want something in good taste that everyone will enjoy, even grandma and grandpa. I have even heard of outdoor weddings where the presentation was shown on the tent or canopy walls. But, if you and your spouse want something custom for only yourselves to remember for years to come, then just go for it and use your favorite songs.
Add Short Video Segments
For those of you who are really talented, today's software programs even let you incorporate little pieces of video. If you have something interesting that looks better in motion, then work up to that clip and add the video segment. Just don't get long and windy about it. People don't want to watch a movie, they want to see clips and tidbits.
Capture the Reception Highlights
You might also like to include your reception, so that you can remember everyone who attended and what happened (or maybe not, depending on whether you think they really want to see themselves tipsy doing the latest group wedding dance like the Cupid Shuffle or the old favorite Chicken Dance). If you have a photo booth, for example, be sure that all the guests get at least one picture taken, so that you can include it in your slideshow album. This will be particularly appreciated and quite sentimental years from now when some of the older family members have passed on. You will have a living memory. It would be great to show your future children, too.
Slideshow Software
Don't be intimidated. Creating a professional looking slideshow is pretty easy. I like using Adobe Photoshop Elements 11
because you can customize your show with music, voice narration, text and clip art, which are all done via the Organizer. If you also have Adobe Premiere Elements video software, you can burn your show directly to a DVD. If not, you can convert it to a WMV file or burn it to a VCD. Getting the software as a bundle
is the best deal. To help you figure out the technical aspects, here is a tutorial from Digital Camera World on creating a slideshow with soundtrack using Elements. If you have iMovie you can do it right on your Mac without additional software.
Wedding slideshows are a lot of fun to create. Photo and video publishing programs allow you to create almost anything. You don't even have to be an expert to pull one together!
Do you have any tips to share about your wedding slideshow? Leave them in the comments below.
Related Posts:
6 Tips for a Sensational Wedding Photo Booth Experience
DIY: Choosing Wedding Invitations that Match Your Wedding Day Theme
Creating Fun Save the Date Cards That Reflect Your Personality