Holiday Photo Greeting Cards Fast and Easy to Create
Custom Photo Cards are the Newest Trend for Sending Out Greetings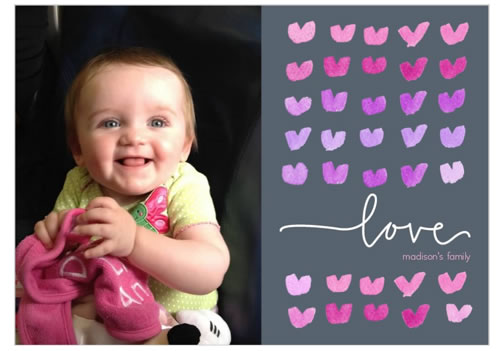 In the last few years I've noticed that more and more of the cards I receive are photo cards, not traditional printed stationery cards. Not just at Christmas, but on other holidays and events such as Valentine's Day. It's a fun and inexpensive way to stay connected with our distant friends and family. Custom photo cards are ridiculously easy to create (Mixbook has a tool that lets you make your card in 30 seconds, start to finish) and they typically cost around the same as nice quality printed greeting cards, sometimes even less. Usually the cost goes down the more you order.
You're not limited to just the major holiday season, you can send out personalized cards for Valentine's Day, Easter, Mother's Day, Father's Day, Halloween, Hanukkah and other holidays. I even make birthday cards using an image or two of the birthday person. The kids in my family especially love receiving them.
Creating a Personalized Photo Card Only Takes a Few Minutes
Designing a custom card is simple. For instance, if you want to make a card to send out for Christmas or Hanukkah, just gather your family and take a few nice photos (get my tips on taking the perfect photo), then pick the best one and upload it to your favorite online photo service. Once you've uploaded your picture, you can select your card style and design, add your personalized message and you're done. Photo greeting cards usually come in sets of 20 with envelopes for mailing, however many sites such as Snapfish and Mixbook allow you to order a specific number of cards, even one card. Some sites, including Shutterfly
and My Publisher
, print your return address on the envelope, which is a real time saver. Shutterfly will even mail your cards for you for a small fee plus postage.

Get the latest sales, discounts and photo card promos on my photo deals page

My favorite photo services are listed below. Be sure to check out my handy chart at the bottom comparing sizes, styles and other features.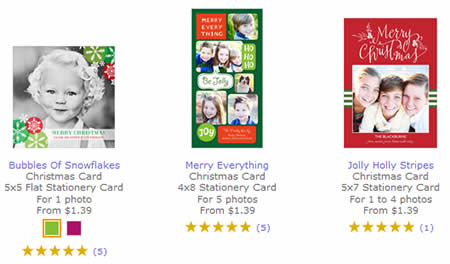 Shutterfly
has nearly 600 card styles in 5x5, 4x8 and 5x7 included flat and folded cards. You can choose photo paper or card stock depending on the style
Photo Greeting Card Printers
Mixbook (my new favorite site) allows you to fully customize your card -- change the layout, add your own design elements and backgrounds -- and their prices are reasonable. They have beautiful templates and three different card stocks. In addition to their main card editor they have a quick card creator that allows you to make a card in 30 seconds, but it will not have all the customization features.
My Publisher
Is the site to go to for elegant designs and beautiful card stock. You can customize your layout as well, although not to the degree as Mixbook. They offer flat and folded cards as well as square and some with rounded corners. They use 120lb heavy weight card stock in a choice of white or ecru and matte or semi-glossy finish. You can choose from two envelope papers -- standard 80lb or super thick stock and order extra envelopes. You can also get colored slip-in envelope liners to match your card and add a bit of pizzazz to the presentation. Return address printing is available. Envelope "extras" come with up charges.
Shutterfly
offers over 600 card styles in flat or folded format printed on premium card stock, as well as flat cards printed on glossy or matte photo paper. Sizes include large 6x8 cards and square 5x5 as well as 4x8 panorama and 5x7. They have a rating system (see image above) where customers can rate the cards they have purchased and you can save cards designs as favorites so you can find them again. Shutterfly is a good choice if you are budget-minded because they offer awesome sales and their photo paper cards start at only 40 cents each. Return address printing is free and they will mail your cards for you for a small fee. They also have custom return address labels.
Snapfish - you can choose from 100's of photo card designs in flat, folded, square and rounded corner formats. They have 4x8, 5x5 and 5x7 cards. I like the slightly glossy finish of their card stock. You can also print your cards on photo paper. What's unique: Snapfish has 3D and animated greeting cards in three sizes. The company also offers free return address printing and a new card mailing service for a small fee plus the cost of postage. You can also order return address labels and even custom photo stamps. You can pick up some orders at your local Walgreens, Wal-Mart or Meijer store, depending on the card style. The prices are slightly higher for in store pickup but you save the shipping fee.
Walmart.com Photo Center
is a great option if you are on a budget, plus you can pick up your photo cards at your local Wal-Mart. They have a surprisingly good selection of 1600+ designs including "designer" cards from Hallmark and others. Cards come in 4x8, 4x5 and 5x7 flat and folded styles on photo paper and stationery card stock. Wal-Mart offers 1 hour, same day and site to store pickup as well as home delivery. For the 2012 holiday season they are offering a free upgrade to premium silver foil-lined envelopes on all greeting card orders.
Greeting Card Software
If you want to get even more creative you can get dedicated software to make your own cards at home. Here is my favorite software:
Greeting Card Factory Deluxe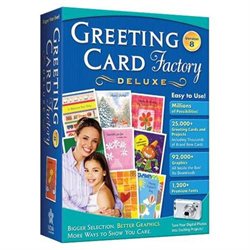 Greeting Card Factory Deluxe
is a great option if you want to make your own cards at home. You can customize and personalize your own greeting cards as well as calendars, invitations, thank-you notes, stationary and other photo projects with beautiful graphics, special text effects, and a wide range of messages. The Greeting Card Factory Deluxe software has
| | |
| --- | --- |
| | 25,000+ Cards and projects |
| | 92,000+ Graphics |
| | Advanced photo editor |
| | Create greeting cards, calendars, photo projects and more |
Photoshop Elements
You can make beautiful greeting cards (as well as photo books and calendars) using Adobe Photoshop Elements.
Select your photos, pick your card size and it will lay out your card for you using one of the built-in card templates. You can add text and anything you want and when you are done you can either print your card on you home printer (perfect if you only need to print a few) or order cards online from Shutterfly right from within the software. There aren't as many card designs as what you would find online or even in Greeting Card Factory, but I can't recommend this software enough for editing and enhancing your photos as well as making creative projects.


Compare Photo Card Services
See this comparison of photo greeting card styles and sizes available from the major online services.
| | | | | | |
| --- | --- | --- | --- | --- | --- |
| Photo COMPANY | Mixbook | My Publisher | | | |
| Discounts | | | | | |
| Sizes | | | | | |
| 4x8 | | | | | |
| 5x7 | | | | | |
| Other sizes | 4x6, 3.5x5, 5x5 | 5.25x5.25 | 5x5, 6x8 | 5x5 | 4x5 |
| Paper/Styles | | | | | |
| Glossy paper | | | | | |
| Matte Paper | | | | | luster |
| Photo Paper | | | | | |
| Premium Card Stock | | satin, matte, textured matte | | | |
| Folded Greeting Card | | | | | |
| Note card | | | | | |
| Postcard (no envelope) | | | | | |
| Print return address | | 25 cents/card | free | free | |
| Standard set of Photo Cards | can order in groups of 5 | sold in groups of 10 | 20 | 20 | sold individually |
| Customize clip art | | | | | |
| No. Photos allowed on cover | unlimited | 0-4+ | 0-3+ | UP TO 8 | up to 12 |
| Themes | | | | | |
| Christmas Cards | | | | | |
| Religious Cards | | | | | |
| Holiday Cards | | | | | |
| Hanukkah Cards | | | | | |
| New Years Cards | | | | | |
| Animated & 3D Cards | | | | | |
| Holiday Invitations | | | | | |
| Holiday-themed thank-you Cards | | | | | |
| Christmas Gift Tags | | | | | |
| Christmas Address Labels | | | | | |
Holiday Photo Card Sales and Discounts
There is lots of competition among photo printing services, resulting in great deals for consumers. Click on the links below for info on current discounts and sales on holiday photo cards:
Mixbook
My Publisher

Snapfish
Shutterfly
Wal-Mart
Custom Holiday Photo Stamps
To make your holiday or Christmas card even more special, you can create personalized postage stamps using your own photo. The service I like is PhotoStamps.
Again, the process is easy. Just upload your favorite photo to their site, choose your design and order your stamps. Photo stamps are real USPS stamps and work the same as regular postage stamps.
Related Pages
6 Tips for Creating the Perfect Holiday Photo Card
Plan Your Holiday Cards Early to Save Money
Sneak Peek on Mixbook's 2012 Holiday Photo Cards