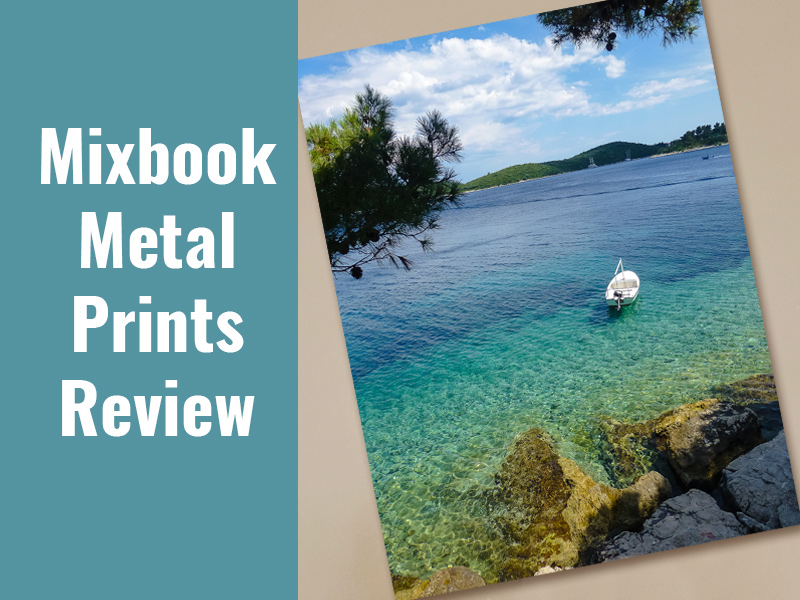 After a very wet, dreary winter, I felt like it was time to celebrate spring by sprucing up our master bathroom décor. Not just change the towels, but update the artwork and jazz up the color. My usual go-to for one-of-a-kind, reasonably priced art is to create a canvas print from one of our travel photos. Sadly, the moisture factor makes canvas a bit dodgy for the bathroom. Then I thought of Mixbook's custom metal prints. They're perfect for a bathroom! Nothing to mildew and any water splashing from the sink will wipe right off.
What You Need to Know About Metallic Prints
Metal prints from Mixbook are high-resolution photos printed on light-weight aluminum panels. The advantage of printing on metal versus canvas is that metal is pretty much indestructible. It's unlikely to fade, stain or yellow and you don't have to worry about water spots or dust because you can just wipe them off. You also get sharper detail than canvas, and intense color.
Choose an image that has high contrast and good saturation, and you can really make it pop on metal. A black and white photo would also look stunning. For my print, I chose a photo from our trip to Croatia, where it was pretty hard to take a bad picture. We had a nice shot from the island of Korcula showing incredibly clear blue water and a lone small boat. The gorgeous aqua sea would really stand out on metal and bring a bit of Croatia to our bathroom.
After uploading my digital image to their website, Mixbook transferred it to thin metal and I received our print in a few days. This is my first time ordering a metal print. While I had an idea of what it would be like, I was surprised at how glossy and colorful it is. I don't feel like it lost any vibrancy with the transfer to metal. In fact, the colors are even richer than the print of the same image in our photo book. The color reproduction is right on, and the water looks so inviting. And who wouldn't like to bring the warmth of the beach into their house!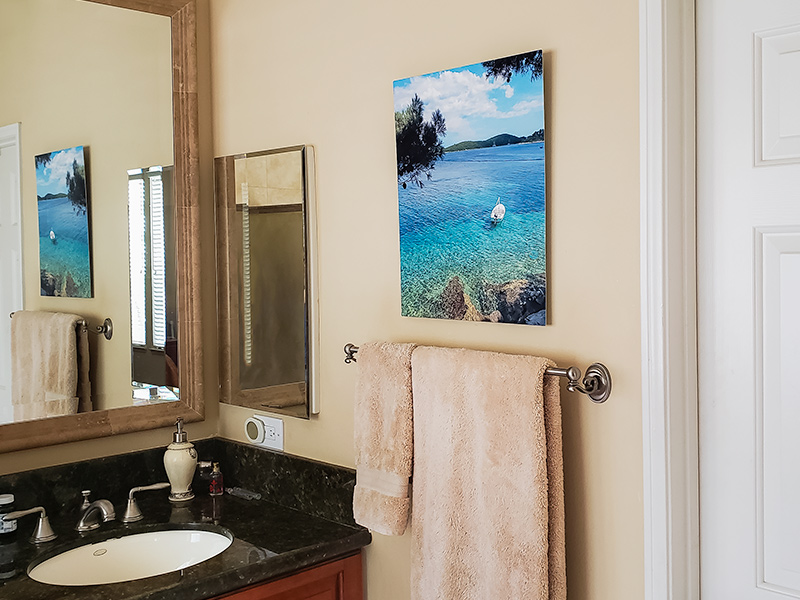 The print is frameless with curved corners so there are no sharp edges. It's sleek looking and adds a nice modern feel to our master bath.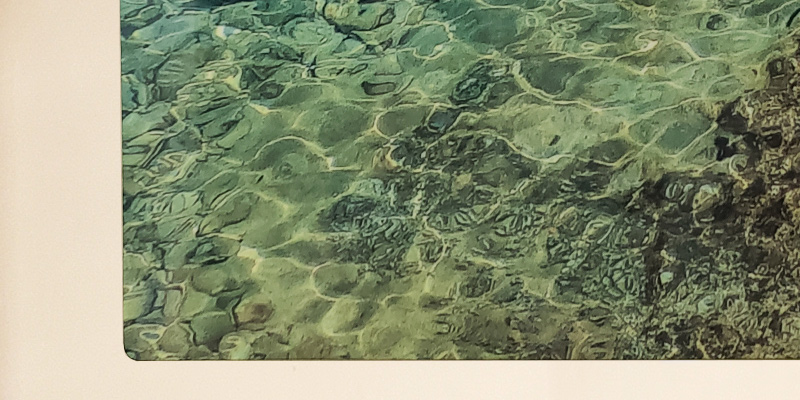 It's quite light and came ready to hang with a wall mount that makes the print float about .5 inch away from the surface. Mixbook says they use a glossy, waterproof finish that's less likely to scratch. It looks like it will be super easy for me to clean fingerprints or dust—or random water splotches and errant hairspray—with a soft damp cloth.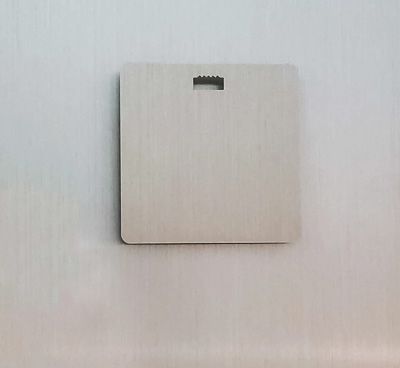 Since they're moisture-resistant as well as fade-resistant, you can decorate with metal prints outdoors as well. So aside from a bathroom or an office, or any other indoor area you want, you could incorporate them into your covered patio décor. Something for me to think about as summer approaches.
Design Options: Flat or Curved
Mixbook offers metal prints in 7 sizes (either portrait or landscape):
| | |
| --- | --- |
| 6×4″ | 20×16″ |
| 7×5″ | 30×20″ |
| 8×10″ | 35×24″ |
| 11×14″ | |
The large metal prints are flat and come ready to hang; as I mentioned, they come with an attached wall mount so they'll float on the wall. With the smaller sizes, you can choose a standalone curved print for your table or desktop or an easel back. The larger prints, 20×16" and up, are flat only.
The Design Process
Like creating canvas prints, designing and ordering my metal print was simple. I uploaded my high-resolution jpeg to Mixbook, chose my print size and orientation, and dragged my photo onto the canvas in the editor. The company's full array of editing and design tools are available, including crop, zoom, rotate, flip, plus brightness, saturation, and contrast adjustments. You can add effects like b&w or sepia or other color effects.
Also, just like with Mixbook's canvas prints and photo books (read my Mixbook photo book review here), you can choose to have a single image or a multiple image layout and you can also add backgrounds and stickers.
I surprised my husband with the print and he was thrilled. Croatia was one of our favorite trips ever, so having a gorgeous metallic print of one of our favorite spots hanging on our bathroom wall is a good way to bring back those memories every day.
Metal, Canvas or Acrylic Prints
In addition to canvas and metal prints, Mixbook also offer acrylic prints. These would also work well in most locations, including areas that get a lot of moisture like a bathroom or kitchen, because of its glass-like finish. Go to Mixbook to learn more about their metal prints and other home décor prints.
To help defray my website operating costs I belong to several affiliate programs.  In some instances, I may receive a  small commission for products viewed or purchased via my referral. I received a credit from Mixbook that helped pay for my print. Opinions are solely my own and I try my best to write honest reviews and only recommend products I use myself.