If you've gotten the dreaded yellow warning sign on some of your photo book images, this means your photo has low resolution and may print blurry or pixilated. Quite often you will see this happen when you upload images from Facebook. Photo book sites such as Shutterfly and Mixbook and others allow their customers to add pictures from Facebook to use in their books. While this has opened a world of new opportunities (think wedding photos, family reunions, etc), typically Facebook reduces the uploaded images to a smaller file size for storage. This can adversely affect the quality of the images when printed, versus using the original, high resolution photos.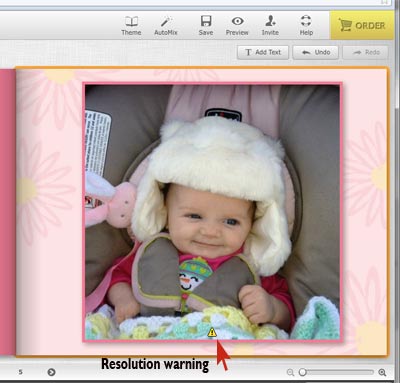 What Is Photo Resolution
You may be wondering about now, just what is photo resolution. By definition, resolution is a sign of the quality of your photos. The higher the resolution, the sharper and more detailed your image will be when printed. While they may look great on screen, low resolution photos may not look as good when printed in your photo book.
But all is not lost, if you follow the guidelines below you can still produce a beautiful photo book.
1. Best Choice: Upload the original, full-resolution image to the photo book site. If you have the original images of the ones you posted on Facebook, ideally you should upload these originals to the photo service. This will enable you to use these photos at larger sizes and in bigger layouts and reduces the chances of having problems with resolution requirements for printing.
2. Next Best: Upload images to Facebook at full-resolution. Facebook does offer this option when you upload photos. If you store your photos at the original, high resolution you shouldn't have a problem when using them in your photo book.
3. Alternatively, if you cannot get access to the original, high resolution images, for example, if you are using images you got from a friend's Facebook page, then consider choosing a smaller book size or using the lower resolution images as smaller photos, i.e. one of several on a page versus one large photo. This option has worked for me pretty well.
Photo sites like Mixbook, Shutterfly, and Snapfish have developed page layouts that will accommodate the lower resolution images to a degree, but to get the best quality photo book printing, use the original full resolution photos if you can get your hands on them.
What is the Recommended Resolution for Photo Books:
For photo books, most online photo services recommend a minimum of:
2000 x 1600 for 12×12 photo books
1600×1200 for 8×8, 8×11 for 7×9 books
1152×864 for 5×7 books.
Note these figures are the minimum. If your image resolution is not high enough you will see a warning on the page indicating that the picture in question is not recommended for printing. While the photo may seem fine when viewed on your computer, it will likely not be so fine when printed.
A final point: While online photo book services do a great job pointing out images with low resolution, they cannot judge the photo's overall clarity and sharpness. It could be an extremely high resolution image but if it is out of focus, it still won't make a crisp print.