You don't have to spend hours or days kvetching over your photo book layout, wondering where to start; it is possible to make a complete photo book in just a few minutes. The magic that makes this happen is a "photo wizard" or "instant book" type tool, which most photo book services offer in addition to the custom book method.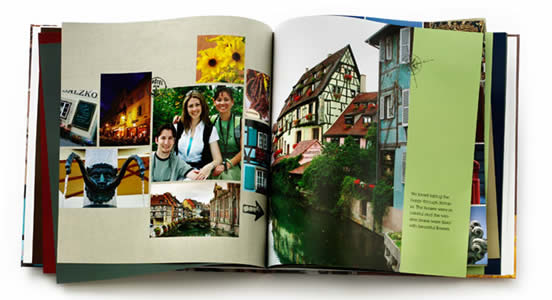 This wizard will take all your photos and auto-fill, i.e., place them automatically, in chronological order, into a pre-designed template. Often there is a limit on the number of images per page, typically a maximum of four images are allowed. Making a book this way is very easy; you just upload your photos into an online album at your favorite online photo service, pick a photo book size and theme, and click the mouse. In a few minutes, your photo book will be fully loaded and ready for you to review. You still have a few options; you can rearrange photos or pages and add captions.
Is an instant book the right process for you? Here are some things to consider:
It's a good choice if:
This is your first photo book and you are still trying to get the hang of how the whole process works.

You are short on time and need to get a book done in a hurry for a gift or other occasion and the clock is ticking.

You want to make a small album, such as a 5×7 baby brag book or snap book. It's a fast and easy way for a new mom to show off photos of the new little one without spending a lot of time on it when she could be sleeping.

Your photos are from a single event such as a new baby or a birthday party and you have a manageable amount of photos (less than 100) that don't need a lot of organizing and rearranging.

You are happy with having a range of pre-set styles and backgrounds to choose from and have found a nice template that you like. Most companies have some really beautiful templates and using them does make life easier. I particularly like the ones from Mixbook, they have a wonderful selection and they are very well done.

You don't want or need to do a lot of customization. It's fine with you if you possibly have fewer choices in terms of font styles, sizes and colors, as they may be tied to the pre-set template. Shutterfly makes some nice templates for their "Simple Path" photo book process, but you don't have as many choices as far as fonts and backgrounds versus their "Custom Path." Mixbook is much more flexible.

You aren't obsessed with having total control over every little thing. You are more concerned about time.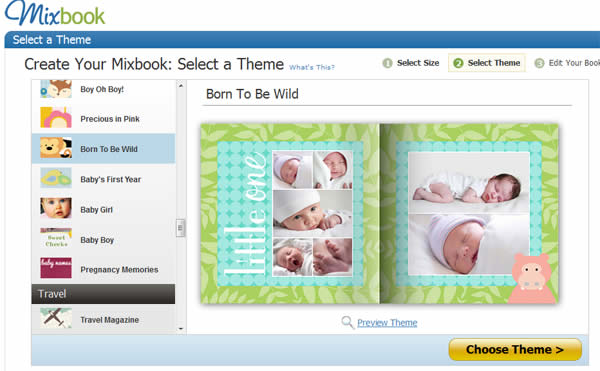 An autofill process may not work for you if:
Your photo book will cover several events such as a "year in review"  or a vacation involving several destinations. There are times when you want to group certain photos together and you don't want a Halloween photo next to one from your Labor Day barbeque.
You may not like the way the software laid out your photos. You could be a control freak like me who wants to have complete control over the layout, size of photos, and where they are placed. Although you can usually do some rearranging in the Autofill process if you are going to re-do everything then it won't be a quickie book, and it can actually take you longer if you have to move everything around.

You want to design your own layout. I am not against using a pre-designed template – in fact, I like using them because there are some wonderful ones with great backgrounds and most companies like Mixbook, Shutterfly and Snapfish offer a lot of flexibility. You can still customize photo size, placement, text, add embellishments etc.

Whether instant book or custom, whichever method you choose, be sure to check out my photo sales page which lists all the latest discounts and promo coupon codes. You are sure to find a deal for your next book.