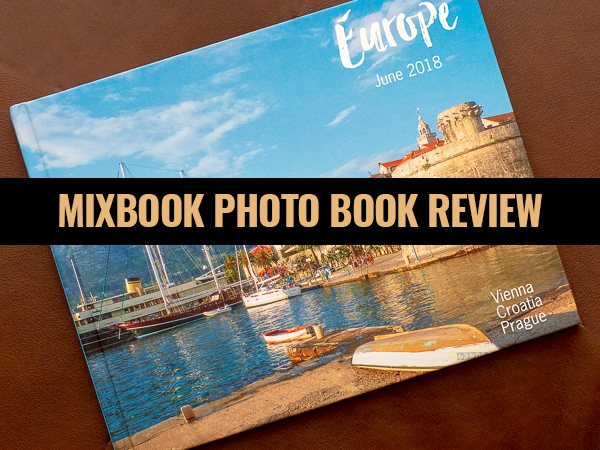 After a three-week trip to Europe this past summer with my husband, I had a lot of catching up to do. At last, our zillions of vacation photos from one camera and two cell phones are sorted and edited and I was ready to make our photo book. Making a memory book after our vacations have become a tradition so we can reminisce over our past trips. I chose Mixbook, as I've made a number of photo books, canvas prints, and calendars with them and have always been pleased. It's been a while since I've made a photo book (meaning it was our first big vacation in a while), so now seemed the perfect time to revisit their book editor and update my review of Mixbook's photo book products.
My Favorite Features:
Super user-friendly, flexible, feature-rich editor
400+ well-designed themes for all occasions that you can completely customize
3 book shapes, 8 sizes, 4 cover styles, and 3 paper choices
Option to change themes at any time without affecting previously-designed pages
Upload photos from your computer, Facebook, Instagram, Google Drive or Smugmug
Online Collaboration
Fast printing and shipping
Book Sizes, Covers and Paper
Mixbook offers a nice complement of book sizes, covers, and paper options. There are 3 shapes, 8 book sizes, 4 cover styles, and 3 paper choices, so you can make everything from a casual softcover mini photo book all the way up to a premium, lay-flat wedding album. Books start at 20 pages and can go up to 399; up to 99 pages for lay-flat books.
Book Sizes
Square, landscape, and portrait shapes books are available:
6×6″ Pocket Square
8×6″ Pocket Landscape
8.5×8.5″ Classic Square
8.5×11″ Classic Portrait
10×10″ Deluxe Square
11×8.5″ Classic Landscape
12×12″ Coffee Table Square
14×11″ Coffee Table landscape
Book Covers
Softcover, Glossy Hardcover, Matt Hardcover, and Premium Leather with Dust Jacket round out the cover options. You can also add a Dust Jacket to the Matt Hardcover.
Paper Styles
Mixbook offers three paper styles, a Semi-gloss 100lb paper, a Pearl Finish with an 80lb Ice Pearl Text finish that adds a little lustre and silky feel and Premium Lay Flat with extra-thick, firm, premium paper, and a luxe matte finish, recommended for wedding books and other special occasions. 
Lay Flat books use 100 lb. Text Mohawk Color Premium Neon White paper stock. It has a heavier feel and the pages won't easily bend or tear. When you open a Lay Flat book the pages stay flat and you don't need to hold them down. You can read my guide to Lay Flat books here.
For my travel book, I chose a Classic Landscape 11×8.5" book with a matte cover and semi-gloss paper.
Design Themes and Templates
With more than 400 themes to date, there are a lot of choices here with attractively designed sample pages within each theme. Categories include travel, family, kids, baby, romance, year in review, everyday, wedding, sports, seasonal, yearbooks and even professional/business themes. I was happy to see that there are even Family History and Family Memoirs themes for those wishing to create a family heritage album. With a little hunting under the Family section, I found several Cook Book themes as well.
Unlike other photo companies, Mixbook allows you to change themes whenever you want, even mid-project, without messing up your book. The pages you've already created won't be affected unless or until you apply a new theme layout to the page. In fact, for my travel book, I used a combination of two different themes, Modern Europe and Live to Travel.
In addition to the theme pages, there are also dozens of page layouts with empty photo frames so you can create your own design and add stickers if you wish (or upload your own), and if you're really a do-it-yourselfer, you can even start from scratch with a blank book.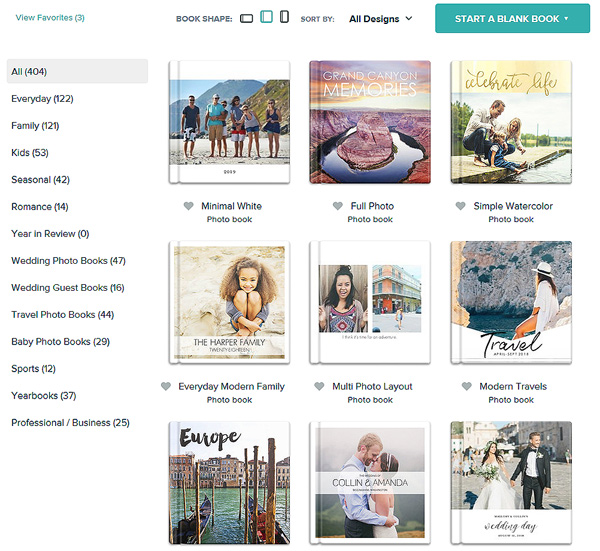 Stickers Galore
The themes come with a pretty big selection of related stickers (all free) that you can add or remove from your project and you can also upload your own, preferably as a PNG file with a transparent background.
The Photo Book Editor
What I've always appreciated about Mixbook is its awesomely flexible photo editor, and, after making books with a variety of companies, it's still my favorite. The truth is, I started making my travel book with another company because they were having a big sale, but after a few pages I actually stopped and switched over to Mixbook because I find it the easiest and most intuitive to work with and you can pretty much do anything you want.

Uploading Your Photos

You can upload photos from your computer, Facebook, Instagram, Google Drive, or Smugmug. They're permanently stored under My Photos forever if you want, and you can create albums, sort by taken or date added. The one thing missing is the ability to see file names at a glance. You have to click on an individual image to see the file name. Not that big a deal most of the time, but I had a situation where I accidentally uploaded the wrong resolution (be sure to use 300 dpi, minimum of 4MB for best results) and it would have been nice to see the file names easily so I'd know which ones to trash.
Working with Your Images
It's simple to add or resize image holders, rotate, flip, and span images across two pages, swap places with another photo, zoom in and out, move an item forward or backward, or add it to the background. You don't have to deal with special edit modes or extra pop-ups or search around for other toolbars or menus, something I've found annoying with other photo book companies. When you click on an image, a little menu appears below it with all your options. Easy peasy.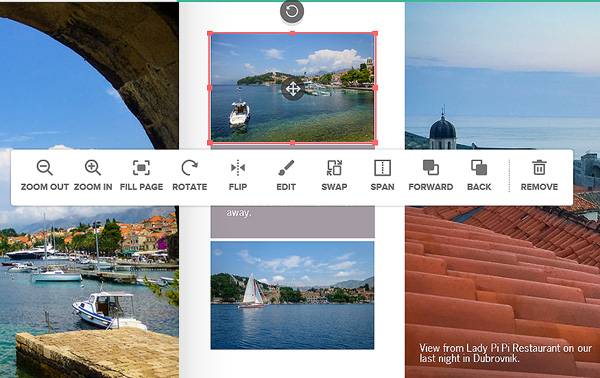 Special effects include adjusting opacity, adding borders and drop shadows, cutting your photo into a shape, and adjusting the brightness, contrast, and saturation. Of course, you can add, resize or remove text boxes anywhere on the page too.
A note about photo editing: It's handy to be able to make some last-minute adjustments to the brightness or boost the saturation right in Mixbook, but the editor is not meant for major adjustments and there are no "auto corrections" done to your images, which I appreciate. I recommend that you use a dedicated photo editor such as Adobe Lightroom or Photoshop for major tweaking. You don't need to worry about cropping your images beforehand, because in Mixbook you can quickly zoom in or out and move the image around within the frame to suit your design needs.
One thing that would be useful is a storyboard so you could pre-group your images by page because I think it could speed up the creation process.
Fonts
Mixbook's editor includes about 90 different type fonts that can be used in any color and size. Like with images, text can be rotated and moved in front or behind other objects. The only thing you can't do is add a drop shadow or change the opacity like you can with photos and stickers.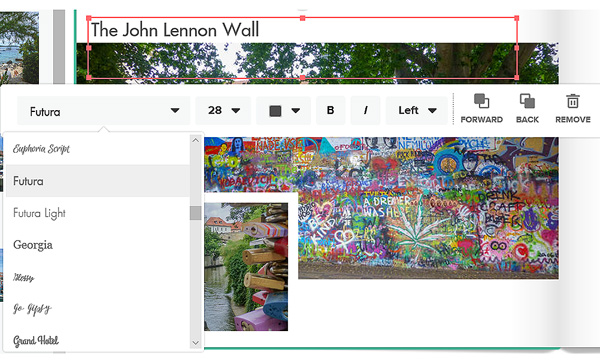 (Almost) Goof-Proof Editing
The book editing process is hard to mess up. Your work is auto-saved whenever you make a change and a warning icon will appear if your photo is deemed too low resolution to print well. If you want to move a photo, yellow guides will magically appear to help you align it with adjacent photos.
Also, if you want an image to bleed to the edge of the page, a yellow dotted line with prompt you to move the edge of the photo down to the cut line (about ¼" past the printed area) to ensure you don't end up with the background peeking through. Be sure to give your book a once-over and double-check bleed photos to make sure the edges go out to the cut line.
There isn't a spellchecker, so be sure to proof all your text before you add your book to the cart.
My Book: How Does it Look?
I was very pleased with my book, and so was my husband. We had fun flipping through the pages and reliving our amazing trip of a lifetime.  In the past, I've ordered the typical glossy cover but this time I got the matte cover and it's gorgeous. The cover colors are rich and vibrant plus it won't show fingerprint smudges. The binding is secure and the images are printed beautifully with true colors. The paper stock is halfway between glossy and matte (duh, that's why it's called semi-gloss) so when you're looking at the book in bright indoor light you don't get glare bouncing off the pages, plus it won't show fingerprints the way a glossier paper would. The paper is sturdy enough that pages won't bend easily. The endpapers are a plain, heavier matte paper.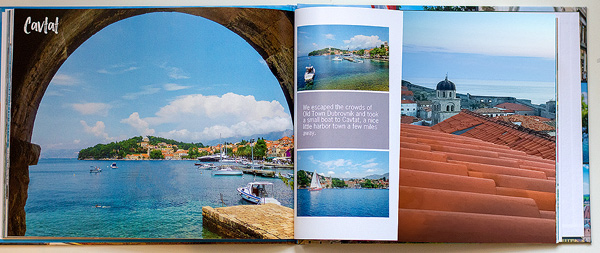 Prices and Shipping
The standard price for a 20-page hardcover book with glossy pages is $39.99, but Mixbook offers weekly coupon codes with typical discounts of 20-50%, depending on the size and style of the book. Most often you can score a 30% discount; in fact, that's the deal as I write this. It brings the price to $27.99 plus tax and shipping, which is pretty comparable to other major photo book companies.
Shipping prices are a couple of dollars more than some other services but they offer "budget shipping" at a discount. It adds about a week to the delivery time, but it's a pretty good deal if you're not in a rush.
Printing and delivery were quite fast. I ordered my book on Monday requesting standard ground shipping and it arrived the following Monday afternoon. In fact, it arrived a day earlier than scheduled.
Online Collaboration
Online collaboration is worthy of mention. Only a few photo book companies offer it and Mixbook is one of them. You can invite family or friends to contribute to your project. They're able to add photos, design pages, and edit the project but they don't have access to snoop on your account. Collaboration would be ideal when working on a family heritage album in particular, or for your kid's sports team book where you want others to contribute photos or information.
The Verdict
Mixbook delivers quality at a reasonable price. Its flexible, feature-filled photo book editor and excellent array of customizable themes make creating books simple and fun. There's a variety of book sizes and cover styles to suit most needs, though paper types are not as extensive as some other companies. I can personally recommend Mixbook and it remains my go-to photo book company.
Holiday Deals
The holidays are coming, and that means so will the great deals and discount offers. I like making photo books, as well as calendars, for Christmas gifts. In fact, it's become somewhat of a tradition for me, especially for people on my list who are hard to shop for. Who wouldn't like to receive a photo book?
You can sign up for free at Mixbook.com and you'll get up to 50% off your first order. Then choose your theme, size and cover style, upload your photos and then personalize with the Mixbook editor. Take advantage of the latest coupon codes here.

To help defray my website operating costs I belong to several affiliate programs. In some instances, I may receive a small commission for products viewed or purchased via my referral. I received a credit from Mixbook that helped pay for my book. Opinions are solely my own and I try my best to write honest reviews and only recommend products I use myself.